spineandneurosurgeryhospitalindia.com is hospital website associated experienced surgeons to deliver perfect treatment and recuperative plan. The consultant before surgery educates the patient with every fact involved in surgery and maintains transparency in procedure, facilities related and cost. The service provided by the team is extremely sensitive. The team makes arrangement keeping the concerns of international patient in mind giving utmost care and professionalism.
Intra Operative Monitoring Of the Nerves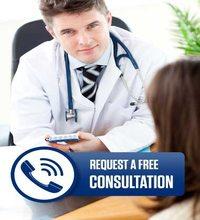 Planning your medical trip to India is a very simple process with Spine and Neuro Surgery Hospital India
You just need to fill in our enquiry form and one of our executive will contact you soon.
+91-9325887033 Call us at the given to contact number for any assistance.
Complete information regarding surgery is provided on our website.
Intra-operative nerve monitoring or intra-operative neuro monitoring involves use of electrophysiological methods such as electroencephalography (EEG), electromyography (EMG), and potential to monitor the functionality of neural structures like the nerves, spinal cord and parts of the brain during surgery. The purpose of an IONM is to eliminate or diminish the risk to the patient from any damage to the nervous system, and provide functional guidance to the surgeon and anesthesiologist.
Spinal surgery involves a wide array of procedures during which the spinal cord, nerve roots, and vital blood vessels are frequently placed at risk for injury. Neuro-monitoring provides an opportunity to assess the functional reliability of vulnerable neural elements during surgery. Major benefits and limitations of each modality are also discussed with the strength of each alone and in combination with regard to sensitivity, specificity, and value as a diagnostic tool. Neuro monitoring relies on the strengths of different types of neuro physiological modalities to maximize the diagnostic efficiency in regard with sensitivity and specificity in the detection of injury. As many spinal surgeries continue to evolve along a pathway of minimal invasiveness, it is likely that the value of neuromonitoring will continue to become grow.
Methods of neuro monitoring
Neuromonitoring involves electro-physiologic appraoches such as extracellular single unit and local field recordings, transcranial electrical motor evoked potentials, EMG, EEG, and auditory brainstem response. The surgical approach depends on the neural structures at risk. Transcranial Doppler Imaging is also gaining popularity in detection of vascular emboli. TCDI can be used alongside EEG during vascular surgery. IONM techniques have prominently reduced morbidity and mortality rates without any additional risks, invariably reducing healthcare costs.








To achieve the objectives, a member of the surgical team with specialization in neurophysiology obtains and interprets signals from the patient periodically or continuously throughout the course of the surgery. Patients who benefit from neuromonitoring are those undergoing operations involving the nervous system or which pose risk to its anatomic or physiologic integrity. A skilled neurophysiologist attaches a computer system to the patient using stimulating electrodes. Interactive software running on the system performs the selective activation of stimulating electrodes with appropriate timing, and processing and displaying the electrophysiologic signals as they are picked up by the recording electrodes.
The surgeon can observe and document the electrophysiologic signals i the operating area during the surgery. The signals change as per various factors including tissue temperature, anesthesia, tissue stresses, and surgical stage. Various factors make their influence on the signals with various tissue-dependent timecourses. Differentiating the signal changes along these lines – with particular attention paid to stresses – is the joint task of the surgical triad: surgeon, anesthesiologist, and neurophysiologist.
Surgical procedures
Patients benefit from neuro monitoring during certain surgical procedures, mainly any surgery where there is risk to the nervous system. Most neuromonitoring is utilized by spine surgeons, but neurosurgeons, vascular, orthopedic, otolarygologists and urology surgeons have all utilized neuromonitoring as well. The most common applications are in parotidectomy, spinal surgery, carotid endarterectomy, acoustic neuroma resection, brain surgeries, and nerve surgery. Intra-operative monitoring is used to localize neural structures, for example to locate cranial nerves during skull base surgery.
EEG measures taken during anesthesia exhibit stereotypic changes as anesthetic depth increases. These changes include complex patterns of waves with frequency slowing accompanied by amplitude increases which typically peak when loss of consciousness occurs. As anesthetic depth increases from light surgical levels to deep anesthesia, the EEG exhibits disrupted rhythmic waveforms, high amplitude burst suppression activity, and finally, very low amplitude isoelectric or 'flat line' activity. Various signal analysis approaches have been used to quantify these pattern changes and can provide an indication of loss of recall, loss of consciousness and anesthetic depth. Monitors have been developed using various algorithms for signal analysis and are commercially available, but none have as yet proven 100% accurate. This is a difficult problem and an active area of medical research.
EMG is used for cranial nerve monitoring in skull base cases and for nerve root monitoring and testing in spinal surgery. ABR (aka BSEP, BSER, BAEP, etc.) is used for monitoring of the acoustic nerve during acoustic neuroma and brainstem tumor resections. What happens during the surgery?
After the patient is put to sleep by the anesthesiologist, small wire electrodes are placed in the muscles of his lower leg for lumbar surgery. They may be placed in the arms for neck surgery. For EMG monitoring, the electrodes are placed in specific muscles that correspond with a specific level in the spinal cord. Technically, EMG monitoring is relatively easy, and the setup takes no additional time during positioning for the surgical procedure.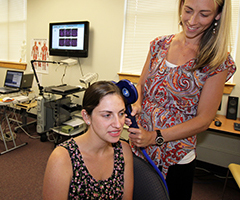 Intraoperative monitoring is conducted by a technician who is in the operating room during the entire procedure. A neurophysiologist may be involved in interpreting the recordings generally at a remote location where they observe the same data as seen by the technologist. This real-time interpretation by an experienced neurophysiologist is the standard of care in many hospitals.
If the spinal cord or nerve roots are damaged while drilling into bone, placing hardware in the spine, or decompressing the spine, the EMG signal will change. This alerts the technician who can then alert the surgeon. Some monitoring units are equipped with a loudspeaker that allows immediate audio feedback. The surgeon can make a change at that time to avoid damage to nerve tissue. When pedicle screws are used, the surgeon may use a handheld probe that can give an electrical stimulation to the pedicle screw once it has been placed. If the screw is where it is supposed to be, it will take a certain amount of current to cause a muscle contraction and wave on the monitor. If it is misplaced, it will take less. The surgeon can then re-evaluate the placement of the screw in order to avoid harm to the nerve root or spinal cord.
What are possible complications with intraoperative monitoring?
The surgery does not need to be interrupted unnecessarily during surgery when neurophysiological monitoring is used. This is safer for the patient. Because the skin is penetrated with needle electrodes, there is a meager risk for infection. This is minimal as the skin is disinfected before the needles are placed, as they are sterile, and are thrown away after a single use. Mild soreness may be experienced where the needles were inserted. Intraoperative monitoring is usually not costly. It is worth it to avoid neurological complications during spinal surgery whenever possible.
If you are really seeking for the Intra Operative Monitoring Of the Nerves, kindly fill up the form for a free consultation with our surgeons. You will be provided with thorough analysis and suggestions regarding the Intra Operative Monitoring Of the Nerves you are seeking for.

Tags
Intra Operative Nerve Monitoring, Low Cost Intra-operative Nerve Monitoring, Methods of Neuro Monitoring, Complications with Intraoperative Monitoring, Benefits of Intra Operative Nerve Monitoring, Best Hospitals for Intra Operative Nerve Monitoring, Best Surgeons for Intra Operative Nerve Monitoring, Low Cost Spine Surgery, Spine Surgery India, Spine Surgery Candidate India, Spine Injury India