Quick Enquiry
Dr. Arun Saroha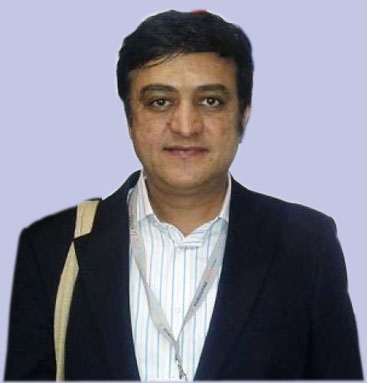 Contact Dr Arun Saroha Top Craniotomy Aneurysms Neuro Surgeon Max Hospital Delhi India
MBBS, MS (Surgery), MCh (Neurosurgery)
E-mail & appointment
E-mail id of Dr. Arun Saroha, Top Craniotomy Surgeon India
Number for appointment with Dr. Arun Saroha: +91-9325887033
Brief Profile
Dr Arun Saroha Craniotomy Surgeon is one of the best Neurosurgeon in India having specializations in brain and spine surgeries. Dr. Saroha has an experience of over 14 years and he has performed more than 6000 brain and spine surgeries as a neurosurgeon at some of the best hospitals across India. Dr. Arun Saroha Neurosurgeon Max Hospital New Delhi has an expertise in Neuro-oncology, Neurotrauma, scoliosis surgery, Stroke Cerebrovascular surgery, Pediatric brain and spine surgery, minimally invasive spine surgery, brain tumour surgery, spine fixation and fusion surgery and brain aneurysm surgery. The Best Craniotomy Surgeon India has a distinction in performing spine surgeries through minimally invasive techniques. Dr. Arun Saroha's team includes Neurosurgeons, Orthopaedicians, Neurologists, spine and trauma surgeons and anaesthetists who make sure to offer critical care for their patients.
Read reviews about Dr. Arun Saroha Max Hospital Saket and get contact number of the neurorologist in Max Hospital Saket on our website.
Education & Training
MBBS from RNT Medical College, Udaipur, Rajasthan, India
- MS (General Surgery) from RNT Medical College, Udaipur, Rajasthan, India
- MCh (Neurosurgery) from PGI Chandigarh, India
Memberships
Visiting Fellow of Singapore General Hospital
Neurological Society of India
AO Spine, Asia Pacific
Neurotrauma Society of India
Association of Spine Surgeons of India
Delhi Spine Society
Delhi Neurological Association
Experience
Best Aneurysms Neurosurgeon in Delhi Dr. Saroha's skills as a neurosurgeon are prominent at some of the best neurosurgery hospitals in India. However, he decided to join Vidyasagar Institute of Medical Sciences (VIMHANS), New Delhi, India as the brain and spine surgeon in the year 2002. Later, he joined as brain and the spine surgeon in Paras Hospitals in Gurgaon, India. Within a period of two years, Dr. Arun's team was receiving patients from India and all from across the globe. In coming years, he shifted to Artemis Hospitals, Gurgaon, India and became Chief Neurosurgeon. During his stints, Dr. Arun has established himself as one of the best neurosurgeons in India for both brain and spine surgeries. At present, he is working as the Senior Spine Surgeon and Neurosurgeon Max Hospital New Delhi.
Awards and Accolades
Best Scientific Paper at IASO Conference in 1996.
Awarded as " Best Resident for Critical Care in Neurosurgery at PGIMER", Chandigarh, India in the year 2002.
Faculty for training in Neurosurgeons at Al Kindi University, Baghdad in 2012.
Awarded "Best Spine Surgeon" by BIG RESEARCH AWARDS at New Delhi, India for the year 2013.
Faculty in ASSICON, New Delhi, India.
Best Scientific Paper Award on " Brain Tumor Research" at NSICON in 2003.
Top Craniotomy Surgeon India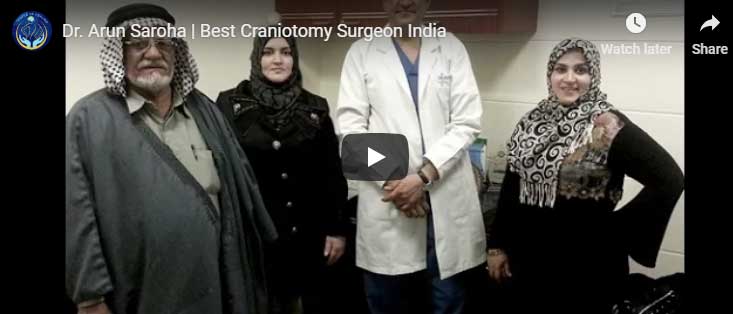 Young Iraqi patient underwent 8 hours of scoliosis surgery by Dr. Arun Saroha Spine and Neurosurgeon from India.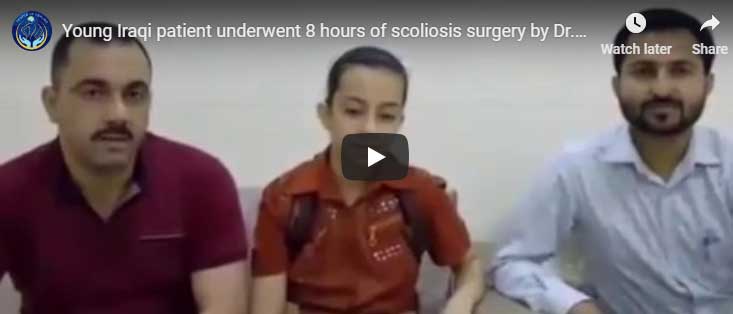 E-mail & appointment
E-mail id of Dr. Arun Saroha, Top Craniotomy Surgeon India
Number for appointment with Dr. Arun Saroha: +91-9325887033
Tags