Low Cost Spinal Fusion Surgery in India
What is the Cost of Spinal Fusion Surgery with Top Hospitals and Top Surgeons in India?
The average cost of the Spinal Fusion Surgery is very high in western countries.
India is known worldwide for its advanced medical facilities and promising technology for Low Cost Spinal Fusion Surgery. Many of the best hospitals for Spinal Fusion Surgery can be found in India.
Spinal Fusion Surgery cost in India is much less when compared to any other countries. Also the cost of Spinal Fusion Surgery in India is substantially lower than other developed countries of the world
Various deciding factors could determine the price of Spinal Fusion Surgery in India. These can be broadly classified as Hospital, Medical Team or Patient Dependent factors.
Hospital Factors
Type of the hospital (Government/Trust/Private).
Use of insurance, type of insurance or self paid.
Accreditation of the facility
Reputation and brand value of the hospital.
Medical Team Factors
Technology / Approach Used
Surgery Type
Type of Anesthesia or Sedation
Qualification / Expertise of the specialist
Extent of the surgery needed
Patient Factors
Patient's diagnosis
Patient's general health
Room Category selected by the patient
Other treatment required by the patient in conjunction
The LIST of AVERAGE COST of the Spinal Fusion Surgery across TOP 15 cities in India in Indian Rupee (INR) is as follows –
| City | Lowest Cost | Average Cost | Highest Cost |
| --- | --- | --- | --- |
| New Delhi | 2,60,000 | 3,40,000 | 4,20,000 |
| Mumbai | 2,75,000 | 3,50,000 | 4,25,000 |
| Chennai | 2,85,000 | 3,70,000 | 4,40,000 |
| Bangalore | 2,90,000 | 3,85,000 | 4,50,000 |
| Hyderabad | 2,95,000 | 3,90,000 | 4,65,000 |
| Ahmedabad | 2,90,000 | 4,00,000 | 5,25,000 |
| Nagpur | 2,50,000 | 3,25,000 | 4,00,000 |
| Pune | 2,75,000 | 3,50,000 | 4,25,000 |
| Gurgoan/Gurugram | 2,60,000 | 3,40,000 | 4,20,000 |
| Kolkata | 3,00,000 | 4,00,000 | 5,25,000 |
| Chandigarh | 2,95,000 | 3,90,000 | 4,65,000 |
| Jaipur | 2,85,000 | 3,70,000 | 4,40,000 |
| Noida | 2,60,000 | 3,40,000 | 4,20,000 |
| Kerala | 2,95,000 | 3,90,000 | 4,65,000 |
| Goa | 3,00,000 | 4,00,000 | 5,25,000 |
Contact Us for a FREE No Obligation Quote & Opinion for Spinal Fusion Surgery in India
Our Hospitals Network and Surgery Group are available in 15 cities of India for our patients to access. Kindly fill up the form for a free opinion from our expert team. We shall get you a Free, No Obligation Opinion from India's best Surgeons and best hospital in India. NO CHARGES LEVIED.
Special ALL SERVICES INCLUSIVE Packages available for INTERNATIONAL PATIENTS
Post a Query
What is the definition of spinal fusion?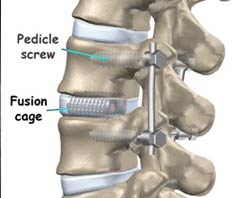 Spinal fusion is a surgical procedure wherein one or more vertebrae are united to eliminate any motion between them. The approach is similar to welding. Spinal Fusion Surgery, only does not weld the vertebrae immediately during surgery. The bone grafts are placed around the spine during surgery. The body then heals the grafts over several months.
When are the indications of spinal fusion surgery?
There are several potential reasons to consider spinal fusion. These include treatment of a fractured vertebra, rectifying deformity, elimination of pain caused during motion, treatment of instability, and treatment of cervical disc herniations.
Not all spinal fractures need surgery, some fractures, particularly those associated with spinal cord or nerve injury, generally require fusion as part of the surgical treatment.
Another condition treated is instability, i.e. the abnormal or excessive motion between two or more vertebrae. It is commonly believed that instability can be a source of back or neck pain or cause potential irritation or damage to close by nerves.
Cervical disc herniations that require surgery usually need fusion as well. In this technique, the disc is removed by an incision in the front of the neck and a small piece of bone is inserted in its place.
How is the Spinal Fusion Surgery performed?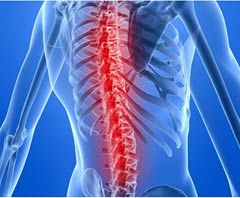 There are many surgical methods available to fuse the spine that involve placement of a bone graft between the vertebrae. The spine may be treated from the back (posterior), from the front (anterior) or by a combination of both. The anterior approach is more common. The ultimate objective of fusion is to obtain a solid union between two or more vertebrae.
A fusion may or may not involve use of supplemental tools like plates, screws and cages. Instrumentation is sometimes used to rectify a deformity, but is usually used to hold the vertebrae together to while the bone grafts heal. Whether the hardware is used or not, it is important that bone or bone substitutes be used to get the vertebrae to fuse together.
The bone may be taken either from another bone in the patient or from a bone bank. Fusion using bone from the patient has a long history of use and results in predictable healing. Smoking, medications you are taking for other conditions and your overall health can affect the rate of healing and fusion, too.
If you are looking for the Spinal Fusion Surgery
Kindly fill up the form for a free consultation with our surgeons. You will be provided with the advised clinical opinion and suggestions regarding the Spinal Fusion Surgery from our experts
Click Here
How long does it take to recover from spinal fusion surgery?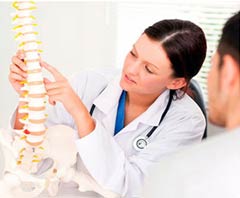 Immediate discomfort following a spinal fusion is generally greater than with other types of surgeries. Fortunately, there are excellent methods of postoperative pain control available, including pain medications and intravenous injections.
Another option is a patient-controlled postoperative pain control pump. Here the patient presses a button that delivers a predetermined amount of narcotic pain medication through an intravenous line.
Patients generally stay in the hospital for three to four days, but a longer stay after more extensive surgery is also possible. A short stay in a rehabilitation center after discharge from the hospital is recommended for patients who underwent extensive surgery, or for elderly or debilitated patients.
The fusion process varies in each patient. The healing process after fusion surgery is similar to that after a skeletal fracture. During this time, the patient's activity is generally restricted. Substantial bone healing does not usually take place until three or four months after surgery.
How many patients underwent Spinal Fusion Surgery in India in the last 5 years?
In recent years, India has emerged as a medical hub for patients looking for affordable, accessible and efficient low cost Spinal Fusion Surgery Treatment
Some of the best Spinal Fusion Surgery hospitals in the world are found in India. The country is known for offering advanced medical facilities at the most reasonable cost.
An average increase of 15 to 20 percent annually has been observed in the number of patients in the last 5 years.
The Indian Spinal Fusion Surgery hospitals deliver advanced health care and highest quality services backed by elaborate infrastructure and lower treatment cost
Here are the approximate figures of the patients underwent Spinal Fusion Surgery in the last 5 years in India –
What are our special services offered to international patients?
Arranging your treatment at medical centers that offer quality and personal treatment to international patients.
Flexible and tailor made packages.
Organizing flights, visa and accommodation.
Arrangement of medical visa to India. (read the news paper articles of our site to know more about it)
Coordinating treatment and correspondence on your behalf.
Liaising with the doctors who will be treating you.
A support line for your relatives and friends back home.
Arranging recuperation holidays.
Transfer to airport and departure.
Access to leading medical institutions and doctors.
Significant savings compared to private healthcare.
Avoid waiting times to be treated
How to plan your Spinal Fusion Surgery in India with 10 Easy Steps?
If you want to undergo your Spinal Fusion Surgery easily in India, just follow the simple steps given below:
Go on the website, fill up the form and send medical reports.
Once we receive the details, it will be forwarded to our specialized surgeons.
Medical evaluation will be by our esteemed surgeons.
We will provide you the quotation for your surgery.
Once you decide, we help you to schedule appointments, Apply for medical visa, Airport pick up.
Arrangement of Airport pick-up on your arrival.
Admission to the hospital and pre-operative consultation with the surgeon will be arranged.
Surgery and Recuperation
Feedback and back to home
Post Discharge Follow up
Patient Testimonial – Low Cost Spinal Fusion Surgery done in India for Mr. Solomon Ogbu from Nigeria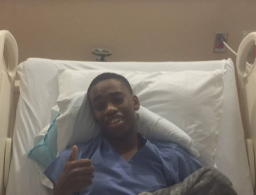 Mr. Solomon Ogbu from Nigeria

My younger brother was involved in an accident last month that caused him some grave spinal injuries and he used to be in persistent pain. I consulted the doctors at spine and neuro surgery group regarding his condition and they suggested going for a spinal fusion surgery to treat it. We were really scared at first as he was already in pain and we did not want to take any further risks. But, the doctors were really supportive and understood our concerns and made sure that we were completely satisfied and convinced about the procedure. In fact, the cost of surgery was so nominal that we became surer that the doctors are suggesting the procedure as a fair mean and not only to mint money.
Why to choose us for your Spinal Fusion Surgery in India?
Advised Clinical Opinion Prior to your travel, we provide options with hospitals and doctors, we help you in selecting Right Hospital with Right Doctor
Benefit from our expertise of helping hundreds of foreign patients find top quality, affordable low cost medical care in India.
Zero Waiting Time and Best Cost service from Best Hospitals in India– Immediate Appointment, complete assistance hospital admission, medical consultation & treatment till discharge from Hospital
Assistance in Travel, Arrange pre- travel information, assistance for travel documents, including passports and visas & arrange comfortable Hotel Accommodation within budget
Who are the TOP 15 Spine Surgeons for Spinal Fusion Surgery in India?
Dr. Arvind G Kulkarni
Dr. Bipin Swarn Walia
Dr. Paresh Doshi
Dr. Sajan K Hegde
Dr. Sandeep Vaishya
Dr. Alok Gupta
Dr. Deepu Banerji
Dr. Ram Chaddha
Dr. Arun Saroha
Dr. Vipul Gupta
Dr. Hitesh Garg
Dr. Arvind Jaiswal
Dr. Deshpande V Rajakumar
Dr. Gautam Zaveri
Dr. V J Laheri
Are you looking for affordable cost of Spinal Fusion Surgery in Top Hospitals of India?
Please consult us to get FREE Quotes, Opinions from TOP Hospitals and BEST Surgeons of India for Spinal Fusion Surgery.
CLICK HERE to get a "No Obligation Quote"
Tags
Low Cost Spinal Fusion Surgery in India, Best Surgeons Spinal Fusion Surgery in India, Top Hospitals Spinal Fusion Surgery in India, Best Hospital for Spinal Fusion Surgery Treatment India, Best Place for Spinal Fusion Surgery Treatment India, Spinal Fusion Surgery Treatment Cost in India, Top Surgeons Spinal Fusion Surgery Treatment in India