spineandneurosurgeryhospitalindia.com is hospital website associated experienced surgeons to deliver perfect treatment and recuperative plan. The consultant before surgery educates the patient with every fact involved in surgery and maintains transparency in procedure, facilities related and cost. The service provided by the team is extremely sensitive. The team makes arrangement keeping the concerns of international patient in mind giving utmost care and professionalism.
Brain Aneurysm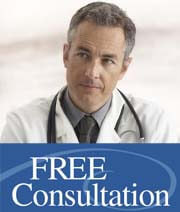 Planning your medical trip to India is a very simple process with Spine and Neuro Surgery Hospital India
You just need to fill in our enquiry form and one of our executive will contact you soon.
+91-9325887033 Call us at the given to contact number for any assistance.
Complete information regarding surgery is provided on our website.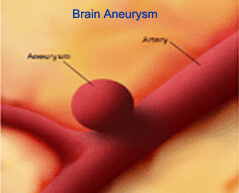 A brain (cerebral) aneurysm is a bulging, weak area in the wall of an artery that supplies blood to the brain. In most cases, a brain aneurysm causes no symptoms and goes unnoticed. In rare cases, the brain aneurysm ruptures, releasing blood into the skull and causing a stroke.
When a brain aneurysm ruptures, the result is called a subarachnoid hemorrhage. Depending on the severity of the hemorrhage, brain damage or death may result.
The most common location for brain aneurysms is in the network of blood vessels at the base of the brain called the circle of Willis.
A brain aneurysm (AN-yoo-riz-um) is a bulge or ballooning in a blood vessel in the brain. It often looks like a berry hanging on a stem.
A brain aneurysm can leak or rupture, causing bleeding into the brain (hemorrhagic stroke). Most often a ruptured brain aneurysm occurs in the space between the brain and the thin tissues covering the brain. This type of hemorrhagic stroke is called a subarachnoid hemorrhage.








A ruptured aneurysm quickly becomes life-threatening and requires prompt medical treatment.
Most brain aneurysms, however, don't rupture, create health problems or cause symptoms. Such aneurysms are often detected during tests for other conditions.
Treatment for an unruptured brain aneurysm may be appropriate in some cases and may prevent a rupture in the future.
A sudden, severe headache is the key symptom of a ruptured aneurysm. This headache is often described as the "worst headache" ever experienced.
Common signs and symptoms of a ruptured aneurysm include:
Sudden, extremely severe headache

Nausea and vomiting

Stiff neck

Blurred or double vision

Sensitivity to light

Seizure

A drooping eyelid

Loss of consciousness

Confusion

'Leaking' aneurysm

In some cases, an aneurysm may leak a slight amount of blood. This leaking (sentinel bleed) may cause only a:

Sudden, extremely severe headache

A more severe rupture almost always follows leaking.

Unruptured aneurysm

An unruptured brain aneurysm may produce no symptoms, particularly if it's small. However, a large unruptured aneurysm may press on brain tissues and nerves, possibly causing:

Pain above and behind an eye

A dilated pupil

Change in vision or double vision

Numbness, weakness or paralysis of one side of the face

A drooping eyelid

Seek immediate medical attention if you develop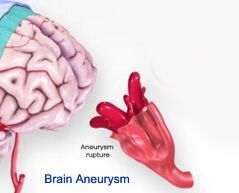 A person may inherit the tendency to form aneurysms, or aneurysms may develop because of hardening of the arteries (atherosclerosis) and aging. Some risk factors that can lead to brain aneurysms can be controlled, and others can't. The following risk factors may increase your risk for an aneurysm or, if you already have an aneurysm, may increase your risk of it rupturing:
Family history. People who have a family history of brain aneurysms are more likely to have an aneurysm than those who don't.
Previous aneurysm. People who have had a brain aneurysm are more likely to have another.
Gender. Women are more likely to develop a brain aneurysm or to suffer a subarachnoid hemorrhage.
Race. African Americans are more likely than whites to have a subarachnoid hemorrhage.
High blood pressure. The risk of subarachnoid hemorrhage is greater in people who have a history of high blood pressure.
Smoking. In addition to being a cause of high blood pressure, the use of cigarettes may greatly increase the chances of a brain aneurysm rupturing.
Brain aneurysms develop as a result of thinning artery walls. Aneurysms often form at forks or branches in arteries because those sections of the vessel are weaker.
Although aneurysms can appear anywhere in the brain, they are most common in arteries at the base of the brain.
Most brain aneurysms cause no symptoms and may only be discovered during tests for another, usually unrelated, condition. In other cases, an unruptured aneurysm will cause problems by pressing on areas in the brain. When this happens, the person may suffer from severe headaches, blurred vision, changes in speech, and neck pain, depending on what areas of the brain are affected and how bad the aneurysm is.
A number of factors can contribute to weakness in an artery wall and increase the risk of a brain aneurysm. Brain aneurysms are more common in adults than in children and more common in women than in men.
Inherited connective tissue disorders, such as Ehlers-Danlos syndrome, that weaken blood vessels
Polycystic kidney disease, an inherited disorder that results in fluid-filled sacs in the kidneys and usually increases blood pressure
Abnormally narrow aorta (coarctation of the aorta), the large blood vessel that delivers oxygen-rich blood from the heart to the body
Cerebral arteriovenous malformation (brain AVM), an abnormal connection between arteries and veins in the brain that interrupts the normal flow of blood between them
Family history of brain aneurysm, particularly a first-degree relative, such as a parent, brother or sister.
When a brain aneurysm ruptures, the bleeding usually lasts only a few seconds. The blood can cause direct damage to surrounding cells, and the bleeding can damage or kill other cells. It also increases pressure inside the skull.
If the pressure becomes too elevated, the blood and oxygen supply to the brain may be disrupted to the point that loss of consciousness or even death may occur.
Complications that can develop after the rupture of an aneurysm include:
Re-bleeding. An aneurysm that has ruptured or leaked is at risk of bleeding again. Re-bleeding can cause further damage to brain cells.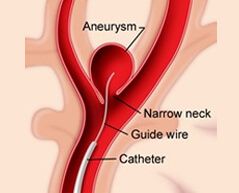 Vasospasm. After a brain aneurysm ruptures, blood vessels in your brain may narrow erratically (vasospasm). This condition can limit blood flow to brain cells (ischemic stroke) and cause additional cell damage and loss.
Hydrocephalus. When an aneurysm rupture results in bleeding in the space between the brain and surrounding tissue (subarachnoid hemorrhage) - most often the case - the blood can block circulation of the fluid surrounding the brain and spinal cord (cerebrospinal fluid).
This condition can result in an excess of cerebrospinal fluid that increases pressure on the brain and can damage tissues (hydrocephalus).
Hyponatremia. Subarachnoid hemorrhage from a ruptured brain aneurysm can disrupt the balance of sodium in the blood supply. This may occur from damage to the hypothalamus, an area near the base of the brain.
A drop in blood sodium levels (hyponatremia) can lead to swelling of brain cells and permanent damage.
Hospitals such as hospital in Nagpur provide specialized treatment for Neuro treatment. The cost of surgery is comparatively quite low in Spine and Neuro Surgery Hospital.
If you are really seeking for the Brain Aneurysm Surgery, kindly fill up the form for a free consultation with our surgeons. You will be provided with thorough analysis and suggestions regarding the Brain Aneurysm Surgery you are seeking for.

Tags
Best Brain Aneurysm Specialists India, Best Brain Aneurysm Treatment hospitals India, Top 10 Brain Aneurysm Specialists of India, 10 Brain Aneurysm hospitals of India, Best Brain Aneurysm Specialists in India