Low Cost Back Pain Surgery in India
Low back pain Overview:
The low back pain (LBP) is a common disorder which involves both the muscles and bones of the back. About 80% of adults experience low back pain at some point in their lives. Often the low back pain is cause of job-related disability. Men and women are equally affected with low back pain which is classified as acute, sub-chronic and chronic depending upon the duration of pain.
Types of Low Back Pain: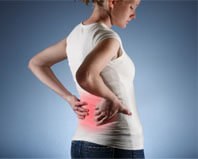 There are different types of low back pain which varies as per the cause, signs and symptoms and duration of the pain.
The types of LBP by causes are:

Mechanical back pain: It includes the herniated discs, non-specific musculoskeletal strains, compressed nerve roots, broken vertebra and degenerative discs or the joint disease.
Non-mechanical back pain: It includes the tumors, infections and inflammatory conditions like the spondyloarthritis.
Referred pain: It is usually caused from internal organs like kidney stones, gallbladder disease, aortic aneurysm and kidney infections.

The types of LBP by duration are:

Acute back pain in which the pain lasts for less than 6 weeks.
Sub-chronic back pain where the pain lasts from 6 to 12 weeks.
Chronic low back pain where the pain persists for more than 12 weeks.

The types of LBP due to signs and symptoms are:

Fever and back pain: This can indicate an infection in your kidneys or the back.
Serious trauma and back pain: Car accident or falling from a flight of stairs can cause a fracture in your back.
Loss of control of bowel or bladder and back pain: This could point to a serious back condition due to pressure on the nerves which require immediate medical care.
Numbness or tingling in leg and back pain: This could indicate a nerve irritation or damage or you could have a spinal stenosis or a herniated disc.
Back pain at night: Back pain that affects your sleep should never be dismissed as this could indicate a spinal tumor or cancer.
Unexplained weight loss and back pain: If you lose lots of weight without changing your activity level or diet and have back pain this could indicate cancers or hormonal disorders.
Back pain that lasts more than 6 weeks: It should be evaluated fully.
History of cancer and new back pain: If you have had a cancer, then the onset of back pain is a sign that cancer has spread to your spine.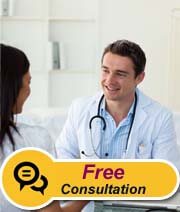 Planning your medical trip to India is a very simple process with Spine and Neuro Surgery Hospital India
You just need to fill in our enquiry form and one of our executive will contact you soon.
+91-9325887033 Call us at the given to contact number for any assistance.
Complete information regarding surgery is provided on our website.

Causes & Diagnosis of Low Back Pain:
The causes of low back pain is not a specific disease instead it is a complaint caused by a large number of underlying problems. A majority of LBP does not have a clear cause, but it is believed to be the result of non-serious muscle issues or skeletal issues like sprains or strains.
The factors like weight gain during pregnancy, poor physical condition, stress, obesity, poor sleeping position and poor position contribute to LBP.
Diagnosis:
The cause of back pain can be diagnosed with a detailed description of the patient's symptoms along with their medical history. The doctor will suggest for imaging (MRI or CT) in order to diagnose spinal stenosis. Lumbar provocative discography is recommended to identify chronic high levels of LBP. Therapeutic procedures like nerve blocks will determine the specific source of pain.
Get Low Cost Back Pain Surgery in India
We offer free assistance to international patients to find best medical treatment in India. We offer low-cost, world-class medical treatment in India, coordinated by a team of experienced service industry professionals
Please post a query to know about low cost treatment options at top India hospitals
Click Here
Symptoms & Treatments for Low Back Pain:
The symptoms of LPB range from a dull ache to a shooting or stabbing sensation. The pain will make it difficult to move or stand up straight. Pain could last for more than three months. You should consult a doctor, if the pain does not subside within 72 hours.
Treatments for low back pain include: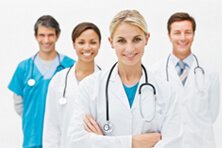 Home care: Taking warm baths or using a heating pad may provide temporary relief.
Yoga: If back pain does not subside in three months, then yoga may help to get relief from it.
Massage therapy: When the message therapy is combined with exercise and stretching, it will help to relieve the chronic LBP.
Spinal Manipulation: Chiropractors and osteopathic doctors use it to treat low back pain by applying pressure with their hands to the bones and the surrounding tissues. However, this treatment is not suitable for everyone.
Acupuncture: Certain studies show that people who had simulated acupuncture and real acupuncture had greater relief than those who did not have acupuncture.
Medications: Over the counter pain relievers and pain-relieving creams are helpful to relieve your muscle aches and mild back pain. Your doctor may recommend prescription medications for severe or chronic pain.
Injections: If therapies and medications aren't helping, then your doctor will recommend injections that usually contain steroid medications. There is a procedure called as a nerve root that targets the irritated nerves.
Surgery and Procedure If long-lasting LBP is interfering with your daily life and other treatments didn't provide you relief, then you may be a candidate for surgery. The surgeon will remove a herniated disc, widen the space around the spinal cord or fuse two spinal vertebrae together as per your medical condition.
Depending on the condition, the spine fusion surgery has a higher success rate, which is around 70% to 90%.
Spine surgery in India is a reasonable option and ensures that patient get quality medical care and treatment at cheap prices. Indian surgeons are efficient to diagnose your condition and recommend appropriate treatment and surgery that will improve your quality of life.
Are you looking for affordable cost of Back Pain Surgery in Top Hospitals of India?
Please consult us to get FREE Quotes, Opinions from TOP Hospitals and BEST Surgeons of India for Back Pain Surgery.
CLICK HERE to get a "No Obligation Quote"
Tags
Back Pain Surgery in India, Back Pain Surgery Cost in India, Affordable Back Pain Surgery in India, Low Cost Back Pain Surgery in India, Price of Back Pain Surgery in India, Best Surgeons Back Pain Surgery India