Contact Dr Ram Chaddha Top Orthopaedic Best Spine Surgeon Sl Raheja Hospital Mumbai India
M. S. (Orthopaedic)
E-mail & appointment
Dr. Ram Chaddha M.S. (Orth) is a prominent Orthopaedic Surgeon specialized in Spine surgery. With an extensive exposure and experience in complex spine instrumentation procedures including, deformities and revision spine surgery, Dr. Ram Chaddha Wockhardt Hospital, Lilavati Hospital and Apollo Hospital is considered the best spine surgeon in Mumbai. Dr. Chaddha has pioneered MICOSS (Minimally Invasive Cosmetic Spine Surgery) in India. In addition to practising, Spine Surgeon Dr Ram Chaddha has been actively associated with academics and teaching. He is a recognized undergraduate and postgraduate teacher and examiner for MBBS, DNB (Orth) and FCPS (Orth). Dr. Chaddha has a number of academic papers to his credit that he has presented at regional, national and international conferences.
Read Dr. Ram Chaddha reviews and contact him on our website.
Designation:
Consultant, Orthopedics Surgeon at S. L. Raheja Hospital Mumbai,
Years Of Experience: 25+
International Fellowships:
Chinese University of Hong Kong in 1990.
Clinique St. Jean Languedoc, Toulouse in France-1992.
Medizinische Hochschule, Hanover, Germany in 1993.
Klinik fur Unfallchirurgie, Zurich, Switzerland in the year 1993.
Institution Orthopedici Rizzoli, Bologna, Italy - 1993
C.T.O., Strasbourg in France-1994
Barrow Neurological Institute, Phoenix, U.S.A in the year 1998 .
Awards:
Young Surgeons' Forum Award - WIROC
J.B. Modi Gold Medal - Neurotrauma
AO - International Fellowship - Switzerland>
AADO Fellowship - France, Hong Kong
AO Special Grant - Germany
AFICOT Fellowship - France
Best Spine Surgeon in India
Top orthopedic surgeon in Mumbai
Best Spine Surgeon in Mumbai
Patient Experience
Dr. Ram Chaddha, Senior Spine Surgeon, President, Association of Spine Surgeon of India, been interviewed by Mr. Shibu John, Editor-in-Chief, 3D Printing World News Express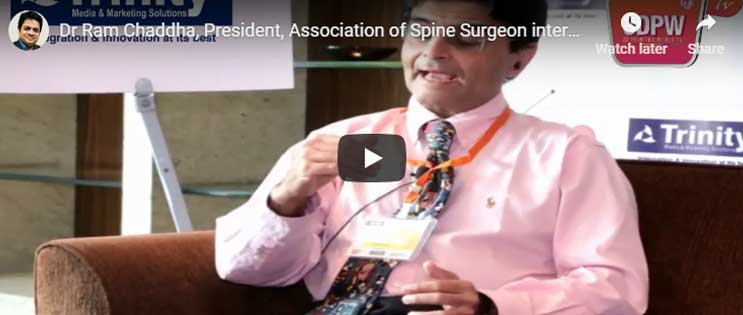 E-mail & appointment
Google Map Location
Consulting Address of Dr Ram Chaddha : Apollo Hospital
Apollo Hospitals,Spine Dept,Plot#13,Parsik Hill Rd, Off Uran Rd, Sector-23, CBD, Belapur, Sector 23, CBD Belapur, Navi Mumbai, Maharashtra 400614
Tags