Introduction
Dr. Vipul Gupta is one of the most experienced and renowned interventional neuro radiologist in India. With a thriving experience of over 21+ years, Best Neuro Surgeon in India is counted amongst the first few in the country to use a dedicated intra-cranial stent and 3D-DSA for aneurysm embolization to perform the intra-cranial venous sinus stenting. He is amongst the rare full-time neuro-interventionist specializing in endovascular interventions in stroke. To book your appointment with Best Neuro Surgery specialist in Artemis Gurgaon, fill up the consultation form. Contact us via Email Address or Contact Number to reach the Director of Neurointerventional Surgery at Artemis.
He has over 45 publications in journals and 7 Chapters in books to his credit. Dr. Gupta has also done over 40 abstract (paper) presentations in Indian and International conferences. He has been awarded with IMA Award in the year 2006 and the IMA Academy of Medical Specialities Award in the year 2007. Fix an immediate appointment with the Top Neurosurgeon in Gurgaon India on our website.
Dr. Vipul Gupta worked as Head- Interventional Neuroradiology in Max Institute of Neurosciences till 2009 and Head- Interventional Neuroradiology in Medanta the Medicity till May 2016 before joining Artemis Hospitals. Dr. Gupta was also featured in Hindustan Times as one of the "Top 10 Young Surgeons" in the country. To book an appointment with Dr. Vipul Gupta Interventional Neurologist Artemis Hospital Contact us here. Call Dr. Vipul Gupta Contact Number to get fast track response.
Qualifications
MBBS, Maulana Azad Medical College, Delhi University, 1987-1992
MD - Radiodiagnosis, Safdarjung Hospital, Delhi University, 1993-1996
Fellowship, Cleveland Clinic, USA, 1999
Fellowship, Foundation Rothschild, Paris, 2005
Specializations
Interventional Neuroradiology
Neurology
Association of Dr. Vipul Gupta with Artemis Hospital, Gurgaon
At Artemis Hospital, Gurgaon, Neurointerventional surgery is a subspecialty specializing in minimally invasive image-based technologies and procedures used for diagnosing and treating diseases of the neck, head and spine. Send your query to Dr. Vipul Gupta Email Address to fix your appointment with the Best Doctor for Neurointerventional Surgery in India.
Patient Experience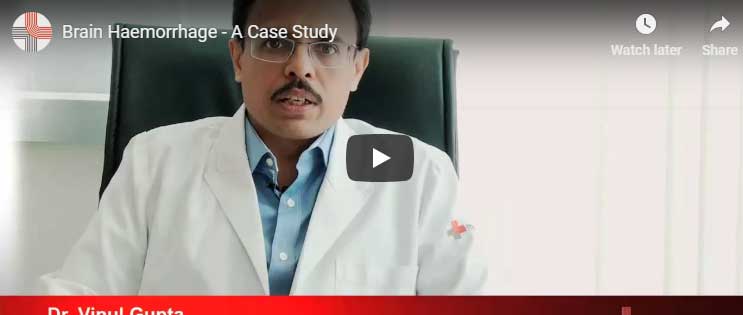 Madam Premlata Sharma had a severe brain haemorrhage that was treated through neuro intervention embolization performed by Dr. Vipul Gupta and his team. Dr. Vipul Gupta neurologist in Artemis Hospital Gurgaon discusses about the complex case of brain haemorrhage where the swelling in the blood vessel burst causing haemorrhage due to Arterio Venus Festula (AVF). Now she made a complete recovery.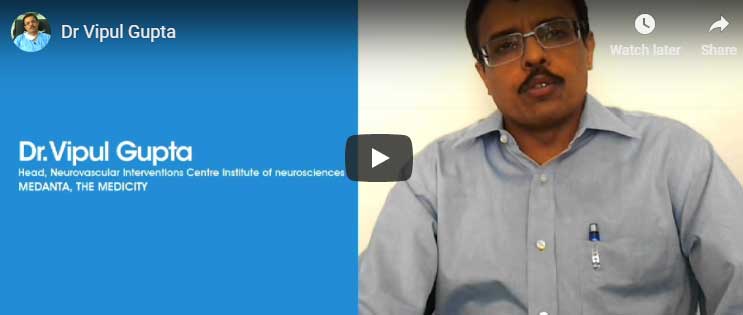 REQUEST APPOINTMENT
Membership
World Federation of Interventional and Therapeutic Neuroradiology
Indian Society of Vascular & Interventional Radiology (Previously, convener of Delhi branch of ISVIR)
Indian Radiology & Imaging Association
Neurological Society of India
Indian Society of Neuroradiology
Delhi Neurological Association
Awards
IMA Academy of Medical Specialties- New Delhi
Recognition Award - Max Healthcare Institute Limited
IMAAMS Distinguished Service Award - Annual Conference of IMAAMS
Best paper award- Joint Annual Conference of Neuroradiology, Vascular and Interventional Radiology, Bangalore, India
IMA Award- Stroke Meeting
Consulting Address of Dr Vipul Gupta Artemis Hospital Gurgaon
Tags
QUICK ENQUIRY
Dr. Vipul Gupta