Epilepsy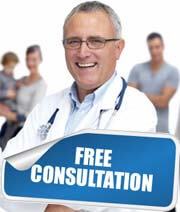 Planning your medical trip to India is a very simple process with Spine and Neuro Surgery Hospital India
You just need to fill in our enquiry form and one of our executive will contact you soon.
+91-9325887033 Call us at the given to contact number for any assistance.
Complete information regarding surgery is provided on our website.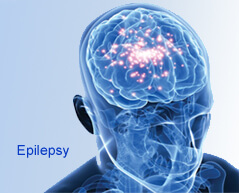 Epilepsy is a central nervous system disorder that affects the nerve cell activity in your brain, causing seizures. During seizures, you may experience abnormal behavior, symptoms and sensations, including loss of consciousness.
About 1 in 26 people in the United States will develop a seizure disorder. Approximately 10 percent of individuals will experience one or more unprovoked seizures. However, having one seizure doesn't mean you have epilepsy. Usually, at least two or more seizures are required for the diagnosis of epilepsy. Seizure signs and symptoms vary. Some people with epilepsy simply stare blankly for a few seconds during a seizure, while others repeatedly twitch their arms or legs.
Epilepsy is a group of neurological disorders characterized by epileptic seizures. Epileptic seizures are episodes that can vary from brief and nearly undetectable to long periods of vigorous shaking. In epilepsy, seizures tend to recur, and have no immediate underlying cause while seizures that occur due to a specific cause are not deemed to represent epilepsy.
The cause of most cases of epilepsy is unknown, although some people develop epilepsy as the result of brain injury, stroke, brain tumor, and drug and alcohol misuse. Genetic mutations are linked to a small proportion of the disease. Epileptic seizures are the result of excessive and abnormal cortical nerve cell activity in the brain. The diagnosis typically involves ruling out other conditions that might cause similar symptoms such as syncope. Additionally it involves determining if any other cause of seizures are present such as alcohol withdrawal or electrolyte problems. This may be done by doing imaging of the brain and blood tests. Epilepsy can often be confirmed with an electroencephalogram (EEG) but a normal test does not rule out the disease.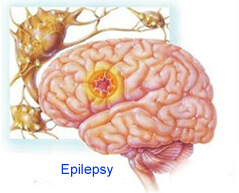 Seizures are controllable with medication in about 70% of cases. In those whose seizures do not respond to medication, surgery, neurostimulation or dietary changes may be considered. Not all cases of epilepsy are lifelong, and a substantial number of people improve to the point that medication is no longer needed.
About 1% of people worldwide (65 million) have epilepsy, and nearly 80% of cases occur in developing countries. Epilepsy becomes more common as people age. In the developed world, onset of new cases occurs most frequently in infants and the elderly; in the developing world this is in older children and young adults, due to differences in the frequency of the underlying causes. About 5-10% of all people will have an unprovoked seizure by the age of 80, and the chance of experiencing a second seizure is between 40 and 50%. In many areas of the world those with epilepsy either have their ability to drive restricted or disallowed, but most are able to return to driving after a period of time without seizures.
Epilepsy is a group of related disorders characterized by a tendency for recurrent seizures. There are different types of epilepsy and seizures. Epilepsy drugs are prescribed to control seizures, and rarely surgery is necessary if medications are ineffective.
Epilepsy Symptoms
While many types of repetitive behavior may represent a neurological problem, a doctor needs to establish whether or not they are seizures.
Generalized seizures: All areas of the brain (the cortex) are involved in a generalized seizure. Sometimes these are referred to as grand mal seizures.








The person experiencing such a seizure may cry out or make some sound, stiffen for several seconds to a minute and then have rhythmic movements of the arms and legs. Often the rhythmic movements slow before stopping.
Eyes are generally open.
The person may appear to not be breathing and actually turn blue. This may be followed by a period of deep, noisy breathes.
The return to consciousness is gradual and the person may be confused for quite some time -- minutes to hours.
Loss of urine is common.
The person will frequently be confused after a generalized seizure.
Partial or focal seizures: Only part of the brain is involved, so only part of the body is affected. Depending on the part of the brain having abnormal electrical activity, symptoms may vary.
If the part of the brain controlling movement of the hand is involved, then only the hand may show rhythmic or jerky movements.
If other areas of the brain are involved, symptoms might include strange sensations like a full feeling in the stomach or small repetitive movements such as picking at one's clothes or smacking of the lips.
Sometimes the person with a partial seizure appears dazed or confused. This may represent a complex partial seizure. The term complex is used by doctors to describe a person who is between being fully alert and unconscious.
Absence or petit mal seizures: These are most common in childhood.
Impairment of consciousness is present with the person often staring blankly.
Repetitive blinking or other small movements may be present.
Typically, these seizures are brief, lasting only seconds. Some people may have many of these in a day.
Epilepsy is a chronic disorder, the hallmark of which is recurrent, unprovoked seizures. Many people with epilepsy have more than one type of seizure and may have other symptoms of neurological problems as well.
Sometimes EEG testing, clinical history, family history and outlook are similar among a group of people with epilepsy. In these situations, their condition can be defined as a specific epilepsy syndrome.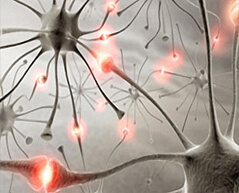 The human brain is the source of human epilepsy. Although the symptoms of a seizure may affect any part of the body, the electrical events that produce the symptoms occur in the brain. The location of that event, how it spreads and how much of the brain is affected, and how long it lasts all have profound effects. These factors determine the character of a seizure and its impact on the individual.
Having seizures and epilepsy also can also affect one's safety, relationships, work, driving and so much more. How epilepsy is perceived or how people are treated (stigma) often is a bigger problem than the seizures.
Hospitals such as hospital in Nagpur provide specialized treatment for Neuro treatment. The cost of surgery is comparatively quite low in Spine and Neuro Surgery Hospital.
If you are really seeking for the Epilepsy Surgery, kindly fill up the form for a free consultation with our surgeons. You will be provided with thorough analysis and suggestions regarding the Epilepsy Surgery you are seeking for.

Tags
Epilepsy India, Epilepsy Disorder, Neurosurgery Hospitals in India, Spine and Neuro Surgery hospital India, Hospital india, Spineandneurosurgeryhospitalindia.com, Neuro Hospitals in Delhi, epilepsy surgery Cost in India, Delhi, Nagpur, India, Low Cost Spine Surgery, Spine Surgery India, Spine Surgery Candidate, Spine Injury India