spineandneurosurgeryhospitalindia.com is hospital website associated experienced surgeons to deliver perfect treatment and recuperative plan. The consultant before surgery educates the patient with every fact involved in surgery and maintains transparency in procedure, facilities related and cost. The service provided by the team is extremely sensitive. The team makes arrangement keeping the concerns of international patient in mind giving utmost care and professionalism.
Spinal Fusion Surgery - Know The Procedure & Cost!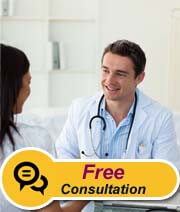 Planning your medical trip to India is a very simple process with Spine and Neuro Surgery Hospital India
You just need to fill in our enquiry form and one of our executive will contact you soon.
+91-9325887033 Call us at the given to contact number for any assistance.
Complete information regarding surgery is provided on our website.
What is Spinal Fusion?

Spinal Fusion is a surgical procedure wherein one or more vertebrae are united to eliminate any motion between them. The approach is similar to welding. Spinal fusion surgery, only does not weld the vertebrae immediately during surgery. The bone grafts are placed around the spine during surgery. The body then heals the grafts over several months.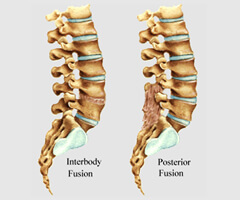 When is Fusion Recommended?

There are several potential reasons to consider spinal fusion. These include treatment of a fractured vertebra, rectifying deformity, elimination of pain caused during motion, treatment of instability, and treatment of cervical disc herniations. Not all spinal fractures need surgery, some fractures, particularly those associated with spinal cord or nerve injury, generally require fusion as part of the surgical treatment. Sometimes a hairline fracture makes one vertebra to slip forward on another, a condition known as spondylolisthesis. It can be treated by fusion surgery. Another condition treated is instability, i.e. the abnormal or excessive motion between two or more vertebrae. It is commonly believed that instability can be a source of back or neck pain or cause potential irritation or damage to close by nerves.

Cervical disc herniations that require surgery usually need fusion as well. In this technique, the disc is removed by an incision in the front of the neck and a small piece of bone is inserted in its place. Spinal fusion is also sometimes considered for the treatment of a painful spinal condition without clear instability. A major obstacle in its success is the difficulty in accurately identifying the source of a patient's pain. The theory is that pain can originate from painful spinal motion and fusing the vertebrae together to eliminate the motion will get rid of the pain.








How is Spinal Fusion performed?

There are many surgical methods available to fuse the spine that involve placement of a bone graft between the vertebrae. The spine may be treated either from the back (posterior), from the front (anterior) or by a combination of both. The anterior approach is more common. The ultimate objective of fusion is to obtain a solid union between two or more vertebrae. A fusion may or may not involve use of supplemental tools like plates, screws and cages. Instrumentation is sometimes used to rectify a deformity, but is usually used to hold the vertebrae together to while the bone grafts heal. Whether the hardware is used or not, it is important that bone or bone substitutes be used to get the vertebrae to fuse together. The bone may be taken either from another bone in the patient or from a bone bank. Fusion using bone from the patient has a long history of use and results in predictable healing. Allograft bone may be used as an alternative to the patient's own bone. Although healing is not as predictable as with autograft, allograft does not require a separate incision to take the patient's own bone for grafting, and therefore is less painful. Smoking, medications you are taking for other conditions, and your overall health can affect the rate of healing and fusion, too
How long does it take to recover from fusion surgery?

Immediate discomfort following a spinal fusion is generally greater than with other types of surgeries. Fortunately, there are excellent methods of postoperative pain control available, including pain medications and intravenous injections. Another option is a patient-controlled postoperative pain control pump. Here the patient presses a button that delivers a predetermined amount of narcotic pain medication through an intravenous line.
The device is frequently used for the first few days following surgery. Recovery after fusion surgery is generally longer than for other types of spinal surgery.

Patients generally stay in the hospital for three to four days, but a longer stay after more extensive surgery is also possible. A short stay in a rehabilitation center after discharge from the hospital is recommended for patients who underwent extensive surgery, or for elderly or debilitated patients. It takes longer to return to a normal active lifestyle after spinal fusion than many other types of surgery. This is because the patient has to wait until the surgeon sees evidence of bone healing. The fusion process varies in each patient. The healing process after fusion surgery is similar to that after a skeletal fracture.

The earliest evidence of bone healing is obvious at least six weeks following the surgery. During this time, the patient's activity is generally restricted. Substantial bone healing does not usually take place until three or four months after surgery. Meanwhile, activities may be increased, although continued evidence of bone healing and remodeling may continue for up to a year after surgery. The length of time required must be off of work that will depend upon the type of surgery and the kind of job one has. It can vary anywhere from approximately four to six weeks for a single level fusion in a young, healthy patient with a sedentary job to as much as four to six months for more extensive surgery in an older patient with a more physically demanding occupation. In addition to activity restrictions, a brace is sometimes used for the early postoperative period. There are many types of braces available.

Some are restrictive and designed to severely limit motion, while others are intended mainly for comfort and to provide some support. The decision to use a brace depends upon the surgeon's preference and other factors related to surgery. After the spinal fusion surgery, a postoperative rehabilitation program may be recommended by the surgeon. In certain cases, a comprehensive program will be custom-designed to safely get the patient back to work. The decision to proceed with a postoperative rehabilitation program depends upon many factors like extent of surgery, patient's age, health and physical activity level. Active rehabilitation may begin as early as four weeks postoperatively for a young patient with a single level fusion.
If you are really seeking for the Spinal Fusion, kindly fill up the form for a free consultation with our surgeons. You will be provided with thorough analysis and suggestions regarding the Spinal Fusion you are seeking for.

Our Country Specific Services