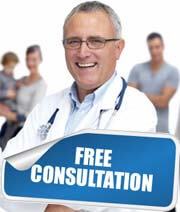 Planning your medical trip to India is a very simple process with Spine and Neuro Surgery Hospital India
You just need to fill in our enquiry form and one of our executive will contact you soon.
+91-9325887033 Call us at the given to contact number for any assistance.
Complete information regarding surgery is provided on our website.
Plan your Scoliosis Surgery in India with SpineAndNeuroSurgeryHospitalIndia
SpineAndNeuroSurgeryHospitalIndia is superlative Medical Tourism Company of India providing superlative Scoliosis Surgery. The first step is to contact us by sending your query; our team executives will respond you within 24 hours, serving you with complete details. You will have the best solution as team will cater premium services and available round the clock to entertain you.
Best Services to comfort you at SpineAndNeuroSurgeryHospitalIndia:
Primary formalities - assistance for visas, comfortable guest house, scheduling appointment with top Surgeon by SpineAndNeuroSurgeryHospitalIndia team.
Professionalism - selecting premium medical provider in fraternity giving specialized treatment with promising results.
Special packages - supreme spine and neuro treatments offered at convenient and budget friendly price.
Support patient services -management of transportation, pre-surgery tests, medications, nursing care, post operative services, accommodations, and provide healthy food as prescribed by practitioners, 24* 7 hours team assistance.
Check out the Patient Testimonial, where the patient shares about their success stories from treatments through Spine and Neuro Surgery Hospital India
Ms. Tokoni, Nigeria
Scoliosis Surgery India
Hello! I am Tokomi from Nigeria. I came to Mumbai for my Scoliosis Surgery in India, under best medical faculty of India. I came to India with the help of SpineAndNeuroSurgeryHospitalIndia.com website. I was searching for one of the best options for surgery in overseas and I came over this website and came to know more about Scoliosis Surgery. My quest for information for Scoliosis Surgery was fulfilled and the kind of treatment I was offered was better than what I got back in Nigeria. The moment I touched India, I was completely taken under the care of the officials of My Surgeon. I was relieved by the care provided to me. I was feeling like I was at home, and I don't have to worry or get concerned about anything. After the Scoliosis Surgery I feel like, I am a new born baby. I couldn't believe my eyes that I can sit straight and walk and could do whatever I want. I never experienced such kind of treatment anywhere. I saw the results with my own eyes, and it was hard to believe that I am cured completely. Really I thank my surgeon and his associates to help me to regain my body structure back. I am completely bowled over by the type of surgery and treatment I received in India. I would love to recommend my friends and relatives to come to India for healthcare and as well as tourism. I am coming back to India for next check up.
Scoliosis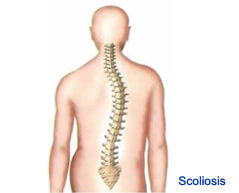 Scoliosis can be defined as the sideways curvature of the spine that mostly occurs during the growth spurt right before puberty. While scoliosis can be caused by conditions such as cerebral palsy and muscular dystrophy, the cause of most scoliosis is yet unknown to the medical fraternity. Most cases of scoliosis are mild, but in some children, deformities are formed that continue to get more severe as children grow. Severe scoliosis can be disabling. An especially severe spinal curvature can reduce the amount of space within the chest, making it difficult for the lungs to function properly.
Children suffering from mild scoliosis are monitored closely, usually with X-rays, to see if the curve is getting worse gradually. In many cases, a treatment is not necessary. Some children will need to wear a brace to stop the curve from worsening. Others may need surgery to keep the scoliosis from worsening and to straighten severe cases of scoliosis.
Scoliosis is a lateral (bending toward the side) curvature in the normally straight vertical line of the spine. When viewed from a side, the spine shows a mild roundness in the upper back and shows a degree of swayback (inward curvature) in the lower back. When a person with a normal spine is viewed from the front or back, the spine appears to be straight. When a person with scoliosis is viewed from the front or back, the spine appears to be curved.
What is the cause of Scoliosis?
There are many types and causes of scoliosis, including:
Congenital scoliosis is caused by a bone abnormality present at birth.
Neuromuscular scoliosis is caused due to abnormal muscles or nerves. Frequently seen in people with spina bifida or cerebral palsy or in those with various conditions that are accompanied by, or result in, paralysis.
Degenerative scoliosis may be caused as a result of traumatic (from an injury or illness) bone collapse, previous major back surgery, or osteoporosis (thinning of the bones).
Idiopathic scoliosis, is the most common type of scoliosis. Idiopathic scoliosis has no specific identifiable cause. Scientists have derived many theories but none have been found to be conclusive. There is, however, a strong evidence that idiopathic scoliosis is inherited.
Who Gets Scoliosis?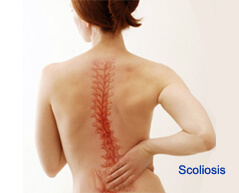 Nearly 2% to 3% of Americans at age 16 have scoliosis. Less than 0.1% have spinal curves measuring greater than 40 degrees, which is when surgery may need to be considered seriously. Overall, girls are more likely to be affected than boys. Idiopathic scoliosis is most commonly a condition of adolescence affecting ages 10 through 16. Idiopathic scoliosis may progress during the "growth spurt" years, but usually will not progress during adulthood.
How Is Scoliosis Diagnosed?
Most scoliosis curves can be detected on school screening exams, by a pediatrician or family doctor, or a parent. Some clues that a child may have scoliosis include uneven shoulders, a prominent shoulder blade, uneven waist, or leaning to either side. The diagnosis of scoliosis and the determination of the type of scoliosis are then made by a careful bone exam and an X-ray to evaluate the magnitude of the curve.
What is the treatment for scoliosis?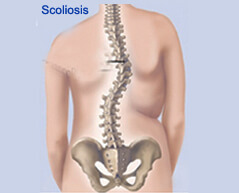 The treatment of scoliosis is based on the severity of the curve and the chances of the curve worsening. Certain types of scoliosis have a greater chance of getting worse, so the type of scoliosis also helps to determine the right kind of treatment. There are three main categories of treatment: observation, bracing, and surgery. Functional scoliosis is caused by an abnormality in any other part the body. This type of scoliosis is cured by treating the abnormality, such as a difference in leg length. A small wedge can be placed in the shoe to help even out the leg length and prevent the spine from curving. There is no direct treatment of the spine because the spine is normal in these people. Neuromuscular scoliosis is caused due to an abnormal development of the bones of the spine. It has higher chances of getting worse. Observation and bracing do not normally work well for these people. A good number of these patients need surgery to stop the curve from getting worse. Treatment of idiopathic scoliosis is based on the age at which it develops.
In a majority of cases, infantile idiopathic scoliosis improves gradually without treatment. Juvenile idiopathic scoliosis is at the highest risk of worsening among all idiopathic types of scoliosis. Braces can be tried early if the curve is not very severe. They may prevent the curve from getting worse until the person stops growing. Since the curve starts early in these people, and they have a lot of time left to grow, there is a higher chance for needing more aggressive treatment or surgery








Adolescent idiopathic scoliosis is the most common form of scoliosis. If the curve is small when diagnosed initially, it can be observed and followed with routine X-rays and measurements. If the curve stays below 25 degrees, no other treatment is needed. The patient may see the doctor every three to four months to check whether the curve is worsening. Additional X-rays may be repeated each year to obtain new measurements and check for progression of the curve. If the curve is between 25-40 degrees and you are still growing, a brace may be recommended. Bracing is not recommended for people who have retained the age where they stop growing. If the curve is greater than 40 degrees, then surgery may be recommended.
Scoliosis is not typically associated with back pain. If a person suffers from back pain, the symptoms can be mitigated with physical therapy, massage, and exercises. These can strengthen the muscles of the back. They are not, however, a cure for scoliosis and will not be able to correct the abnormal curve. There are several different types of braces available for scoliosis. Some need to be worn nearly 24 hours a day and are removed only for bathing. Others can be worn only at night. The ability of a brace to work depends on the person following the instructions from the doctor and wearing the brace as directed. Braces are not designed to correct the curve. They are used to help slow or stop the curve from getting worse.
If the curve stays below 40 degrees until the person is finished growing, it is not likely to get worse later in life. However, if the curve is greater than 40 degrees, it is likely to continue to get worse by 1-2 degrees each year for the rest of the person's life. If this is not prevented, the person could eventually be at risk for heart or lung problems. The goals of surgery for scoliosis are correcting and stabilizing the curve, reducing pain, and restoring a more normal curve and appearance to the spinal column. A large number of hospitals in India offer the best possible care. Spine and Neuro Surgery hospital in Nagpur is renowned for its efficient surgeons and medical staff. Spine&Neurosurgery Hospitals in India are equipped with highly sophisticated infrastructure to process the best treatment plan for scoliosis.
FAQ - Scoliosis Surgery India
If you are really seeking for the Scoliosis Surgery, kindly fill up the form for a free consultation with our surgeons. You will be provided with thorough analysis and suggestions regarding the Scoliosis Surgery you are seeking for.

Related Pages
Tags
Low Cost Scoliosis Treatment in India, Best Hospitals for Scoliosis in India, Scoliosis Pain in Spine, Treatment for Degenerative Disc Disease, Spine Surgery Hospitals India, Spine and Neuro Surgery Hospital India, Hospital India, Spineandneurosurgeryhospitalindia.com, Scoliosis Pain in Spine Cure, Spine Hospital in Delhi, Scoliosis Pain in Spine Surgery Cost in India, Nagpur, India