Low Cost Robotic Spine Surgery Best Surgeons Top Hospitals India
What is the Cost of Robotic Spine Surgery with Top Hospitals and Top Surgeons in India?
The cost of the Robotic Spine Surgery in India is typically a fraction of the cost for the same procedure and care in the US and other developed countries.
The cost can vary as per the diagnosis and conditions of the patients along with the facilities availed.
And if you compare the same with developed nations, the cost for these treatments is often the double than what you find in India.
Various deciding factors could determine the price of Robotic Spine Surgery in India. These can be broadly classified as Hospital, Medical Team or Patient Dependent factors.
Hospital Factors
Type of the hospital (Government/Trust/Private).
Use of insurance, type of insurance or self paid.
Accreditation of the facility
Reputation and brand value of the hospital.
Medical Team Factors
Technology / Approach Used
Surgery Type
Type of Anesthesia or Sedation
Qualification / Expertise of the specialist
Extent of the surgery needed
Patient Factors
Patient's diagnosis
Patient's general health
Room Category selected by the patient
Other treatment required by the patient in conjunction
The LIST of AVERAGE COST of the Robotic Spine Surgery across TOP 15 cities in India in Indian Rupee (INR) is as follows
| City | Lowest Cost | Average Cost | Highest Cost |
| --- | --- | --- | --- |
| New Delhi | 5,00,000 | 6,00,000 | 7,50,000 |
| Mumbai | 5,25,000 | 6,25,000 | 7,75,000 |
| Chennai | 5,25,000 | 6,25,000 | 7,75,000 |
| Bangalore | 5,50,000 | 6,50,000 | 8,00,000 |
| Hyderabad | 5,75,000 | 6,75,000 | 8,25,000 |
| Ahmedabad | 5,50,000 | 6,50,000 | 8,00,000 |
| Nagpur | 5,00,000 | 6,00,000 | 7,50,000 |
| Pune | 5,25,000 | 6,25,000 | 7,75,000 |
| Gurgoan/Gurugram | 5,00,000 | 6,00,000 | 7,50,000 |
| Kolkata | 5,75,000 | 6,75,000 | 8,25,000 |
| Chandigarh | 5,50,000 | 6,50,000 | 8,00,000 |
| Jaipur | 5,25,000 | 6,25,000 | 7,75,000 |
| Noida | 5,00,000 | 6,00,000 | 7,50,000 |
| Kerala | 5,25,000 | 6,25,000 | 7,75,000 |
| Goa | 5,50,000 | 6,50,000 | 8,00,000 |
Planning Affordable Robotic Spine Surgery in India is an easy process
Our Hospitals Network and Surgery Group is available in 15 cities of India for our patients to access. Kindly fill up the form for a free opinion from our expert team. You will be provided with an analysis and recommendations for your surgery. NO CHARGES LEVIED.
Special ALL SERVICES INCLUSIVE Packages available for INTERNATIONAL PATIENTS
Post a Query
What is Robotic Spine Surgery?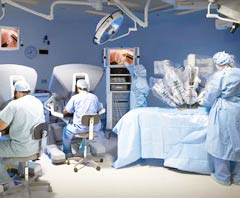 Robotic Spine Surgery is one of the unique robotic techniques that have been introduced to the field of Neurosurgery and Spine surgery in India.
To avoid any of the erroneous possibilities, or to take Spine surgery even more closer to accuracy to giving successful outcomes, Robotics has made a strong mark on the Spine treatment industry.
In particular, the use of Robotic Spine Surgery is the greatest for the application of screws, especially for fusion surgery. With this, there are higher chances of correctness and lesser chances of complications.
Who are the candidates for Robotic Spine Surgery?
Robotic Spine Surgery provides cutting edge advantages for those patients, who are suffering from unbearable Spine conditions. This technology is particularly useful for those, who have been bearing with debilitating Spinal problems that are restricting them from performing their routine activities.
Also, for problems, which are not getting corrected with the usage of conventional treatment methods like physiotherapy, medicines, and if the patient has been recommended a Spinal surgery, taking into consideration the pain and discomfort
What type of Spinal problems can be cured using this advanced technology?
Scoliosis – A neuro-muscular condition that affects mostly children in the age group of 10 to 14. It appears to be a bone ailment because of the three dimensional change in the alignment of the Spine. A Spinal curve occurs at different points of the Spine of 15 degree or more than 50 degrees.
Degenerative Disc Disease – It is one of the most usual reasons behind neck pain or low back pain, caused due to wearing or tearing of a Spinal disc. It can lead to numbness, extreme pain in the legs or arms. This condition is natural and relate to ageing.
Herniated Disc – When the discs in our Spine starts degenerating owing to ageing or any kind of injury, the soft portion in the centre of the disc can herniate or rupture. This is called Disc Herniation.
Kyphosis – It can strike at any age and may affect men or women. It mostly affects the upper back can also affect the cervical spine area or the lumbar spine area. This complex spinal deformity had several forms like Osteoporosis-related Kyphosis, Congenital Kyphosis, Degenerative Kyphosis, Neuromuscular Kyphosis, Nutritional Kyphosis, Postural Kyphosis, Traumatic Kyphosis and a few others.
Spondylolisthesis – This is a condition where the bone in the patient's back (vertebra) slides forward above the bone below it. It usually occurs in the lower spine that is the lumbosacral area. In some cases, it may lead to the spinal cord or the nerve roots getting squeezed. This causes severe back pain, numbness or weakness in one or both the legs. Also, in exceptional cases, it can also make the patient lose control over his or her bladder or bowels.
What are the benefits of the Robotic Spine Surgery?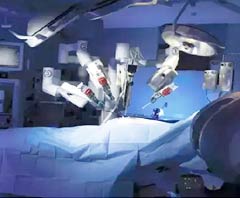 The advantages of Robotic Spine Surgery are:
The accuracy level of screw placement in way much higher
The most complex Spinal surgery can be done more confidently and efficiently
High rate of success
The duration of the procedure is lesser as compared to traditional Spinal procedures
Less chances of any complications
Smaller incisions and that's why minimum scarring
Less chances of getting an infection
Quicker recovery
Lesser postoperative pain
Less amount of blood loss
The level of flexibility is higher
The patient is less exposed to radiation
The margin of safety is greater than traditional surgeries
Why Opt India for Robotic Spine Surgery?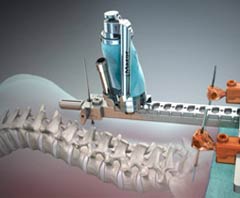 India's rapid growth as the most favored and sought after healthcare destination has placed her in a very advantageous position. Innumerable medical tourists from all over the world are visiting India, owing to the presence of the most sophisticated medical technology and advanced techniques implemented for every kind of medical condition.
Robotic Spine Surgery is a very promising treatment option available in Indian hospitals. India is blessed in this matter because India has the best spine surgeons with an amazing blend of experience and expertise. They have dealt with the most complicated health conditions and can easily adopt innovative techniques.
Furthermore, being one of the highest priced treatments it is not very easy for all patients to afford this kind of treatment. But India offers such complex robotic spine surgery at very low cost at top spine surgery hospitals across India.
Get Low Cost Robotic Spine Surgery in India
We offer free assistance to international patients to find best medical treatment in India. We offer low-cost, world-class medical treatment in India, coordinated by a team of experienced service industry professionals
Please post a query to know about low cost treatment options at top India hospitals
Click Here
How many patients underwent Robotic Spine Surgery in India in the last 5 years?
In recent years, India has emerged as a medical hub for patients looking for affordable, accessible and efficient low cost Robotic Spine Surgery. This emergence is primarily due to the development of state-of-the-art private and public sector healthcare facilities, medical insurance and the ease of access to quality healthcare services. An average increase of 15 to 20 percent annually has been observed in the number of patients in the last 5 years.
Here are the approximate figures of the patients underwent Robotic Spine Surgery in the last 5 years in India –
Why Choose Us for your Robotic Spine Surgery?
We provide Top Quality Healthcare services at Low cost
Patient saves up to 60-80% on medical costs
Our Medical Panel Includes Highly Qualified Surgeons and Hospital support staff.
Patient will Get free Opinion - No charge for consultation
We will Guide you to select the Best Hospital and Doctor for your Surgery.
Make all your arrangements for travel
What services we offer to our International Patient?
Low cost - a fraction of the cost of UK/USA surgery.
Low risk - world's highest standards of clinical care & surgery.
Lowest infection rates - less than 0.5%.
In case the patient/attendant are English-constrained, then provide interpreter services Quick response and availability of revert.
Straight forward - simple booking procedure to seek top Medical Treatmentin India.
Full assistance to get Medical Visa.
Fast efficient service -immediate treatment with no waiting lists.
Full patient support service - 24/7 services.
Receive the travelers at the airport
Handhold the patients through the treatment process at the hospital (in person and/or by phone – as and when required)
Monitor and track all the admission formalities
Provide regular medical updates to the sponsor of the treatment (such as, the insurance agency, charity organization, employer, etc)
Keep track of the additional requirements (if discovered during the treatment) and organize interventions accordingly to strive to ensure that the treatment process does not get disrupted.
Handhold the travelers if they wish to get visa for any other country on their way back home (at extra cost)
Handhold the travelers during their shopping/sight-seeing tours - we may or may accompany the travelers, but we coordinate for a smooth and pleasurable experience (at extra cost)
Specialist consultations - scans, clinical investigations & consultations at short notice.
Patients without insurance are equally benefitted
Patient Testimonial – Robotic Spine Surgery done in India for Ms. Alysa Chao from Singapore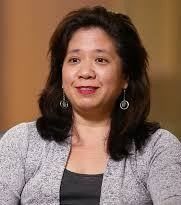 Ms. Alysa Chao from Singapore

Would I recommend the spine and neuro surgery group in the top spine surgery hospitals of India for a spine or neurology related treatment? Absolutely yes! In fact, I already have recommended a colleague to get his mother's treatment from the same hospital where my robotic spine surgery was performed. The staff and the doctors there really changed my perspective about the hospitals. The amount of hygiene level, professionalism and positive environment that is maintained in the premises of the hospital throughout is commendable. In fact, god forbidden if I (or anybody I know) would have any such ailment again in life, then I will visit the same hospital without even thinking once.
How to plan your medical trip to India with 7 easy steps?
Step 1- Firstly make an enquiry and send us relevant medical reports.
Step 2- Your medical details will be evaluated by our esteemed surgeons/doctors.
Step 3- You will be provided with the doctor's recommendations, opinion and costing.
Step 4- Once selected, we will help you in visa and accommodations.
Step 5- At the time of your arrival in India, your airport pickup will be arranged.
Step 6- Will be guided for Hospital Admission, Surgery and Recuperation.
Step 7- Feedback and back to home.
Who are the TOP 20 Spine Surgeons for Robotic Spine Surgery in India?
Dr. Arvind G Kulkarni
Dr. Bipin Swarn Walia
Dr. Paresh Doshi
Dr. Sajan K Hegde
Dr. Sandeep Vaishya
Dr. Alok Gupta
Dr. Deepu Banerji
Dr. Ram Chaddha
Dr. Arun Saroha
Dr. Vipul Gupta
Dr. Hitesh Garg
Dr. Arvind Jaiswal
Dr. Deshpande V Rajakumar
Dr. Rajagopal Krishan
Dr. Rana Patir
Dr. K Sridhar
Dr. Prakash Singh
Dr. H. S. Chhabra
Dr. Pradeep Sharma
Dr. Bharat R Dave
Which are the TOP Hospitals for Robotic Spine Surgery in India in our panel?
Fortis Hospital Mumbai, New Delhi, Chennai, Bangalore India
Artemis Hospital, New Delhi India
Global Hospital, Mumbai, Bangalore, Chennai, Hyderabad, India
Bombay Hospital Mumbai India
Lilavati Hospital Mumbai India
Saifee Hospital Mumbai India
Wockhardt Hospital Mumbai India
Indian Spinal Injuries Center New Delhi India
Fortis Memorial Research Institute, Gurgoan, India
Indraprashta Apollo Hospital, New Delhi India
Max Super Specialty Hospital New Delhi India
Primus Super Specialty Hospital New Delhi India
Shalby Hospital, Ahmedabad, India
BLK Super Specialty Hospital, New Delhi India
Rockland Hospital, New Delhi India
Paras Hospitals, New Delhi India
Jaypee Hospital, New Delhi India
Are you looking for affordable cost of Robotic Spine Surgery in Top Hospitals of India?
Please enquire with us, get a "No Obligation Quote"
CLICK HERE
Tags
Low Cost Robotic Spine Surgery in India, Best Hospital for Robotic Spine Surgery India, Cost Benefits of Robotic Spine Treatment in India, Lowest Price for Robotic Spine Treatment in India, Robotic Spine Treatment Cost in India, Top Surgeons Robotic Spine Surgery in India, Top Hospitals Robotic Spine Surgery in India