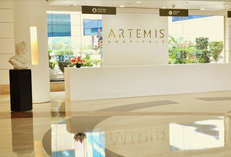 Artemis Hospital
Artemis Hospital was established in July 2007 by Apollo Tyres Ltd, one of the leading tyre manufacturers in India. It is spread across 9 acres and has 380 beds; state-of-the-art, super-speciality hospital located in Gurgaon.
Artemis is the first hospital in Gurgaon that has been accredited by JCI and NABH.
Designed as one of the most advanced in India, we provide an in-depth expertise in the sphere of advanced surgical and medical interventions, comprehensive mix of inpatient and outpatient services. We aim to offer excellent medical care in a compassionate environment and a practice dedicated to pioneering research, empowering the health care professionals and the diverse communities we serve. The hospital follows clinical procedures that are technologically advanced and supervised by distinguished doctors of international repute. We undertake to deliver standard-setting medical care that is led by the needs of the patient; our exceptional medical facilities and unmatched responsiveness have made us one of the most admired hospitals in the country.
Artemis has about 300 full time doctors, 11 centres of excellence and 40 specialities. We have a 50 bed super-speciality hospital in Dwarka, New Delhi, high end clinics in DLF Club5 (Gurgaon), Rewari (Haryana) and Anand Niketan (New Delhi).
Vision Statement
To create an Integrated World Class Healthcare System, Protecting, Fostering, Sustaining and Restoring Health through Best in Class Medical Practices and Cutting Edge Technology developed through the in-depth Research carried out by the World's Best Scientific Minds.
Core Values
The corporate value system at Artemis is founded on three pillars – Service, Integrity and Compassion.
Care for customer
Always Learning
Trust Mutually
Respect for Associates
Excellence through Teamwork
Ethical Practices
Mission
To deliver world class patient care services.
To excel in the delivery of specialized medical care supported by a comprehensive research and education.
To become the preferred choice for the world's leading medical professionals and scientific minds.
To develop, apply, evaluate and share new technology.
To become an active partner in local community initiatives and contribute to its well-being and development.
Artemis is Recipient of awards like:
Most Promising Start-Up of the Year 2007 award – Express Healthcare magazine
Best IT Implementation for the Year 2008 – PC Quest magazine for Hospital Information System
Best Institute for Medical Value Year 2010 – The CNBC Awaaz travel awards
Asia Pacific Hand hygiene excellence Award Year 2011 – World Health Organisation (WHO)
Tags
Artemis Hospital Delhi India, Best Spine Surgery Hospital India,Tour2india4health Consultants, Best Hospital in India, Best Hospital in Asia, Best Cancer Surgery Hospital in India, Plastic Surgery Hospital in India, Hospitals in India, Best Hospital in Delhi NCR, Joint Replacement Surgery Hospital, Spine Surgery, Joint Replacement Surgery India, Cancer Treatment in India, Low Cost Medical Treatment in India