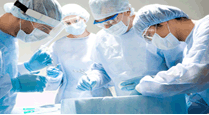 We stepped into this domain in the year 1983 with a vision to bring healthcare of international standards within the reach of every individual. Apollo Group is committed to achieve and safeguard the excellence in education, healthcare and research for the benefit of humanity. Our hospital chain is the largest integrated healthcare organization till date and it has dominated in whole of Asia and globally as well. What makes us stand out from other healthcare centers is our prominence on reaching out to every specific area; directly or indirectly related to the healthcare services.
Our capacity has been outreaching to over 10000 beds for over 51 hospitals, more than 1500 pharmacies, over 100 primary care and diagnostic clinics, 115 telemedicine units across 9 nations, health insurance services, global projects consultancy, 15 academic institutions and the research foundation with priority on the global clinical trials, genetic research and stem cell and epidemiological studies. Additionally, our organization pioneered the idea of developing the cardiac sciences, orthopedics, neurosciences, cancer, emergency care and organ transplantation.
Our chain of hospitals always has a purpose and a sense of urgency in helping our patients to recover back to their healthy state. We are proud to have served about 39 million lives from across 120 countries. We have been the trendsetter in private healthcare, which later became the revolution. Apollo hospitals have completed 30 magnificent years in serving people throughout the world with the most advanced and world-class equipments.
Under the supervision of Dr. Prathap Reddy, the firm has operated on many ambitious projects that include Apollo Reach Hospitals setting a paradigm in serving healthcare amenities to the people of India and the world. His immense knowledge and extensive efforts in this domain has made us the most preferred healthcare destination in India and abroad. Our success story has been an inspiration to the healthcare sector worldwide. Our pledge is to prepare an environment where the medication is easily provided and people do not need to look outside for health treatment, thereby making India, a worldwide healthcare hub.
Values
The convergence of seven values results in a ray which represents Apollo's leadership in Indian Healthcare. A ray is a beacon for the millions of people looking for a cure and hope.
Ownership
We value integrity and promote the apt use of the resources entrusted to us for the enhancement of human life.
Quality
Always pursuing high quality, our hospital envisions more efficient, equitable care at all levels of a patient's experience. Through a consensus-based process, efficiency measures and clinical quality we meet the needs and expectations of the general public, providers, government and practitioners.
Compassion
We value the quality of presence and caring that accepts people as they are and promotes healing and wholeness.
Innovation
We embrace change and work to improve all we do in an economically responsible manner.
Patient Centric
In all our endeavours, we are guided by the requirements of the patient, creating a partnership which is effective and personal across the continuum of care. We put our patients first since we seek to exceed the expectations of our customers with superior service, outstanding clinical care and unsurpassed responsiveness. Teamwork System effectiveness is built on the combined strength and cultural diversity of everyone, working with open communication and mutual respect. Respect For All We use 'Namaste' as the salutation when meeting patients, guests, employees in person or on telephone. We greet each individual, those we serve and also those with whom we work, with the highest professionalism and dignity. International Affiliations

Apollo Hospitals is recognized as a training centre for post-graduate training in 16 medical departments by the National Board of Examination in India.
The Department of Radiology at Apollo is recognized by the Royal College of Radiologists, United Kingdom for training for fellowship examinations like FRCR.
Recognized by the Royal College of Physicians and Surgeons in Edinburgh for training post-graduates in radiology or radiotherapy services, surgery and trauma care.
Recognized as a centre for conducting research work leading to Ph.D. in medical physics and digital signal processing of the Anna University, Chennai.
Apollo Hospitals is the only International training organization for the American Heart Association Technical support from the Minneapolis Heart Institute for Cardiology and Texas Heart institute and Cardio Thoracic surgery.
Our Hospitals have exchange programs with the Hospitals in the US and Europe.
We have an association with Mayo Clinic & the Cleveland Heart Institute,USA.
Apollo Hospitals is also associated with Johns Hopkins University & Indraprastha Apollo Hospitals, New Delhi.



US Patient undergoes Cardiac Surgery at Apollo Hospitals-Chennai,India
Tags
Apollo Hospital Goa, Low Cost Spine Surgery India, Low Cost Neurosurgery India, Best Place for Spine Treatment India, Neurosurgeon in India, Low Cost Neurosurgeons in India, Best Hospitals for Neurologist in India, Cost Benefits of Spine Surgery in India, Lowest Price for Spine Treatment in India, Spine Treatment Cost in India, Top Surgeons Spine Surgery in India, Causes of spine injury, Top Hospitals Spine Surgery in India