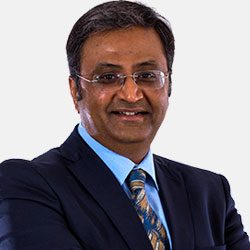 Neurosurgery, Spinal Surgery
Designation: Director – Institute of Neurosciences & Spinal Disorders
Specialty: Neurosurgery, Spinal Surgery
Location: Chennai
Nationality: Indian
Languages spoken: English, Hindi
Gender: Male
---
Education
Qualification: MBBS, DNB (Neurosurgery)
Medical School: Madras Medical College, Madras, in December 1982 with a Frist Class in Surgery. Awarded the Bachelor of Medicine and Bachelor of Surgery degree of University of Madras in February 1984 after completion of the Compulsory Rotatory.
Training: National Board of Examinations Neurosurgery
Residency Traning: General Surgery: 1984 – 1985: One year training in General Surgery at the Government General Hospital, Madras as per specifications of the National Board of Examinations towards the Five year Direct course in Neurosurgery.
Residency:
Neurosurgery: 1985 – 1990 Five years training in Neurosurgery at the Dr. Achanta Lakshmipathi Neurosurgical Center
VHS Medical Centre, Madras 600 113. India under Prof. B. Ramamurthi
Chief Residency: Qualified in Neurosurgery and certified as a Diplomate of the National Board of Examinations in Neurosurgery in May 1990.
Experience
Past Positions:
2009- September 2011: Head, Division of Brain and Spine Surgery, Fortis Malar Hospital, Chennai
June 2006 – April 2009 :Medical Director and Head of Neurosurgery National Neurosciences Centre, Calcutta
1990 to 2005 :Senior Consultant Neurosurgeon, Dr.A. Lakshmipathi Neurosurgical Centre, V H S Hospital, Chennai 600113
December 2004 to October 2005: Professor and Head of Neurosurgery, Meenakshi Medical College and Research Institute, Enathur, Kanchipuram
1992 – 2006: Consultant Neurosurgeon, Malar Hospitals, Chennai
1996 till 2006: Hony Consultant Neurosurgeon, Southern Railway, Railway Headquarters Hospital, Perambur, Chennai
Credentials
Special Interest: Vascular, Skull Base and Cervical Spine surgery
Membership:
Life member, Neurological Society of India.
Life Member, Association of Spinal Surgeons of India
Life Member, Skull Base Society of India
Active member, Indian Society of Pediatric Neurosurgery
International Member, Congress of Neurological Surgeons
International Member, Joint Section on Disorders of the Spine and Peripheral Nerves of the AANS and The CNS
Life Member Neuro-oncology Society of India
Awards: Awarded "Adjunct Professor" by The Tamilnadu Dr M.G.R Medical University in recognition of his Clinical and Academic work
Consulting Address of Dr. K. Sridhar Global Hospital Chennai
departments
: Neurosurgery and Spinal Surgery
positions
: Neurosurgery and Spinal Surgery