spineandneurosurgeryhospitalindia.com is hospital website associated experienced surgeons to deliver perfect treatment and recuperative plan. The consultant before surgery educates the patient with every fact involved in surgery and maintains transparency in procedure, facilities related and cost. The service provided by the team is extremely sensitive. The team makes arrangement keeping the concerns of international patient in mind giving utmost care and professionalism.
Intrathecal Pump Implant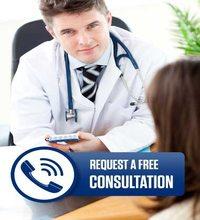 Planning your medical trip to India is a very simple process with Spine and Neuro Surgery Hospital India
You just need to fill in our enquiry form and one of our executive will contact you soon.
+91-9325887033 Call us at the given to contact number for any assistance.
Complete information regarding surgery is provided on our website.
An intrathecal pump is used in cases where patients have not been benefitted from the conservative methods of treatment and surgery is not likely to help. The intrathecal pump system consists of three parts: the receiver, controller and external catheter. The pumps are programmed to supply small amount of medicine directly to the space surrounding the spinal cord. The reservoir is filled with medications that prevent pain signals from being perceived by the brain. Intrathecal Pump Implant is effective in treating cancer pain, severe back pain, neuropathic pain and spasticity.
Procedure of Intrathecal Pump Implant
An intrathecal pump is an equipment that delivers small quantities of pain medication directly to the spinal fluid. When supplied in small doses, pain medications may minimize the side effects generally experienced with larger oral doses of the same medications. A pump can lessen the pain associated with failed back surgery, cancer, or nerve pain, as well as reduce spasticity, or muscle rigidity, in patients with cerebral palsy, multiple sclerosis, stroke, brain injury, or spinal cord injury. A trial intrathecal injection or a temporary intrathecal pump is usually performed to determine whether the medication is effective and a permanent pump is appropriate. The intrathecal pump itself consists of metal pump that stores and delivers the medication, and a catheter that delivers the medication to the space around the spinal cord. The pump can be programmed to slowly release the medication over a period of time, or to deliver the medication at different times of the day.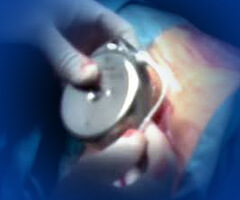 To implant the device, our neurosurgeons make a small incision in the back to place the catheter in the affected area of the spine. Then an extension catheter is passed under the skin from the spine around the torso to the abdomen where the pump is implanted. Chronic pain patients may experience a reduction in pain as well as an overall improvement in activities of daily living, and patients with spasticity may see a reduction in rigidity and muscle spasms. Oral medications and their side effects are greatly reduced because the medication in the pump is delivered directly to the spinal cord, so much smaller doses are needed.
A catheter is inserted into the intrathecal space through a needle connected to a temporary pump. It is used for some days to verify the system. If the patient feels pain relief, a pump could be implanted permanently. Implantation is usually performed under general anesthesia. The temporary catheter is removed and a needle is inserted through the implanted device. Also, this pain pump is implanted under the skin in the abdomen and connected to the catheter. The pump receiver controls a part of medication to block pain. The pump battery usually lasts three to five years and after that new batteries could be implemented. The amount of medication is programmed with an external drive and the system could be activated or deactivated. The patient must visit the doctor regularly to fill the pump. Over some time period, it requires a catheter to be replaced with another because of damages caused due to friction. Both incisions are then closed with sutures. The pump is filled with medication and immediately programmed. You will be monitored in the recovery area for about one hour and then transferred to a room for overnight observation. If there are no signs of problems, you will be discharged the following day.
Benefits of Intrathecal Pump Implant
Minimizes need for oral medications
Alleviates the side effects associated with oral medications
Trial is completed in four to seven days to determine therapy's effect
Outpatient procedure
Reversible therapy, implant can be removed at any time
Patient controlled programmer allows pre-setting parameters to control breakthrough pain
Does not require a surgical incision
No prolonged recovery time
No serious side effects.








Side-effects of Intrathecal Pump Implant
Implanting a pump is not an innocuous procedure.
Implanting can cause significant cosmetic alteration at the implant site, which is unacceptable to many patients
Includes bacterial infection, bleeding in rare cases, and allergic reactions.
Steroid side effects like swelling of the arms, legs, face and eyes.
Steroids can increase level of sugar in some diabetic patients
Dislodging of pump or catheter.
Precautions after an Intrathecal Pump Implant
Patient will be taught how to turn the pump on and off by himself using a magnet
Keep the surgical area clean and dry to help prevent skin infection
Patient may be required to wear a tight binder for some weeks
The pump needs to be re-filled with medication every one to three months.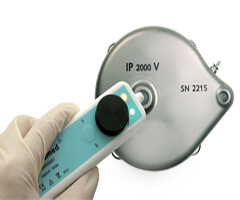 Patients needing intrathecal drug delivery can be divided into two wide categories. The first category includes patients suffering from terminal ailments such as cancer. These patients generally respond positively to intrathecal drug implants if they have been successfully managed on oral opioids previously. Traditional Invasive therapy should be considered if they have responded well to opioids, but have developed increasing pain and intractable side effects despite rotating oral opioids. However, if patients are terminal and their life expectancy is less than six months, one has to weigh the benefits against the risks of such a dare knowing that it takes some time to stabilize patients on a given dosing pattern. This type of therapy is generally recommended for individuals with a life expectancy of greater than six months.
The second category of patients is those with chronic non-malignant pain, for example, failed low back surgery syndrome. The use of intrathecal drug delivery systems in chronic non-malignant pain is more controversial. One has to recognize that chronic non-malignant pain is complicated by physical, psychological, and behavioral factors. To be successful, a treatment must include a multidimensional approach that takes into account each of the elements of the biopsychosocial model. Clearly, treatment for chronic pain should consider conservative approaches before more invasive treatments are considered. These approaches include but are not limited to physical therapy and rehabilitation, psychological and behavioral intervention such as self-relaxation cognitive and behavioral therapies (eg, biofeedback), pharmacotherapy, minimally invasive interventions (such as epidural and transforaminal injections), and alternative therapies such as acupuncture.
If you are really seeking for the Intrathecal Pump Implant Surgery, kindly fill up the form for a free consultation with our surgeons. You will be provided with thorough analysis and suggestions regarding the Intrathecal Pump Implant Surgery you are seeking for.

Our Country Specific Services
Tags
Top 10 Intrathecal Pump Implant Specialists in India, Best Intrathecal Pump Implant Specialists in India, Best Intrathecal Pump Implant Specialists India, Top 10 Intrathecal Pump Implant Specialists India, Association of Intrathecal Pump Implant Specialists of India, Best Intrathecal Pump Implant Treatment India