spineandneurosurgeryhospitalindia.com is hospital website associated experienced surgeons to deliver perfect treatment and recuperative plan. The consultant before surgery educates the patient with every fact involved in surgery and maintains transparency in procedure, facilities related and cost. The service provided by the team is extremely sensitive. The team makes arrangement keeping the concerns of international patient in mind giving utmost care and professionalism.
Lumbar Disc Prolapse - Understanding the disorder!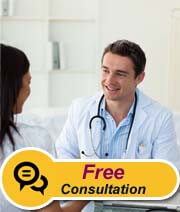 Planning your medical trip to India is a very simple process with Spine and Neuro Surgery Hospital India
You just need to fill in our enquiry form and one of our executive will contact you soon.
+91-9325887033 Call us at the given to contact number for any assistance.
Complete information regarding surgery is provided on our website.
Lumbar Disc Prolapse Overview:
Our discs deteriorate with age, the inner nucleus in our disc, which is like a soft gel dries out and becomes less spongy. The outer annulus is also at risk for cracking or splitting as it becomes brittle with age. If this spilt extends through the annulus, then the nucleus can squeeze out into the spinal canal, thereby pushes the nerves. Let us understand the facts about this disorder.
Lumbar Disc Prolapse - stats and figures people suffering:
Lumbar disc prolapse is most commonly seen in people between the age range of 35 and 55. A prolapsed lumbar disc can occur anywhere in the lower back. Usually, the intervertebral discs between L4 and L5 or L5 and S1 vertebrae are vulnerable to herniation. This is because the spine bears much of the body weight and supports a wide range of motion. With aging, our vertebrae starts losing its elasticity and the ability to bounce back from everyday movements. Eventually, this will cause lumbar disc prolapse.
Symptoms, Causes & Diagnosis of Lumbar Disc Prolapse:
Symptoms: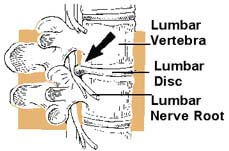 The symptoms of lumbar disc prolapse include sudden low back pain followed by pain radiating into the thigh, buttock shin or calf. At first, patients may have severe pain which can be described as a deep dull ache similar to sharp stabbing pain. Some people also experience tingling, numbness, muscle weakness in knee, hip or ankle movements. The shin or sciatica is typically worsened by sneezing, coughing, bending or prolonged sitting.








Check out the Patient Testimonial, where the patient shares about their success stories from treatments through Spine and Neuro Surgery Hospital India
Causes:
Degeneration of the disc or disc aging is a gradual process. A lumbar disc prolapse occurs when the annulus is too weak for preventing the nucleus prolapsing out. In most cases, no specific event causes the prolapse. But it can be triggered due to an injury or exertion. Usually, this condition is caused by heavy lifting, twisting and bending of the spine, mild activity or at rest. A normal, healthy disc cannot prolapse unless there is some pre-existing disc degeneration or weakness.
Diagnosis:
The doctor will ask you to undergo a spinal MRI scan in order to diagnose a lumbar disc prolapse. The MRI scan report will provide detailed images of the spinal structures, including the discs and the nerves. X-rays are not quite useful to diagnose a spinal disc prolapse instead it may involve exposure to unnecessary radiation.
Management & Treatments Lumbar Disc Prolapse:
Most patients improve over a period of 4 to 8 weeks with conservative treatment like pain medication. Some patient's benefits from reduced activity, acupuncture or physiotherapy. It is advised to refrain from forceful spinal manipulation as it has the potential to cause nerve damage or aggravate the pain. During these treatments, the patients should avoid activities that involve flare-ups in the pain.
Despite the initial conservative treatments, about one in four patients do not get improvement in their condition. Some of the patient's condition continues to worsen.
Tablets like anti-inflammatories, pain killers and muscle relaxants are used to treat this condition. In rare cases, an epidural injection of steroid or the steroid tablets can be given to patients for settling down the inflammation. However, the effects of these treatments are temporary. A physiotherapist can recommend you about the pain relieving techniques, gentle exercises to maintain back mobility, ways to manage your daily activities and fitness. However, these hands-on treatments play a limited role in treating lumbar disc prolapse.
The patients who do not get relief from their medical condition, will be referred to a consultant spinal specialist for further advice and assessment. Considering the condition of the patient, the specialist may recommend the ongoing conservation management, a steroid nerve root block or a lumbar microdiscectomy operation.
In case a patient develops problems with bladder or bowel function or disturbing leg or ankle weakness, then he/she will be urgently referred to a spinal surgeon. The surgeon will perform a prolapsed disc operation for patients dealing with chronic back pain and neck pain that has developed due to the deterioration of one or more intervertebral discs in the spinal column. He/she will remove the source of nerve compression by performing the type of procedure which is suitable as per your medical condition. The different type of procedure for prolapsed disc operation are:
Laminotomy
Foraminotomy
Facet thermal ablation
Minimally invasive stabilization
The prolapsed disc symptoms can be managed through the non-surgical treatments like pain medications, physical therapy, rest or exercises. If chronic lumbar disc prolapse pain persists even after weeks or months of conservative treatment, consider Spine and Neuro Surgery Hospital India. The surgeons here performs minimally invasive, outpatient procedures using modern techniques.
If you are really seeking for the Lumbar Disc Prolapse, kindly fill up the form for a free consultation with our surgeons. You will be provided with thorough analysis and suggestions regarding the Lumbar Disc Prolapse you are seeking for.

Our Country Specific Services
Tags
Best Lumbar Disc Prolapse Specialists India, Best Lumbar Disc Prolapse Treatment hospitals India, Top 10 Lumbar Disc Prolapse Specialists of India, 10 Lumbar Disc Prolapse hospitals of India, Best Lumbar Disc Prolapse Specialists in India