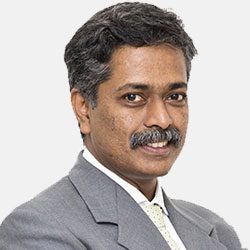 Spinal Surgery

Designation: Director – Global Spine Institute
Specialty: Spinal Surgery
Location: Chennai
Nationality: Indian
Languages spoken: English, Hindi
Gender: Male
---
Education
Training inIinterlaminar Percutaneous Endoscopic Cervical and Lumbar Spine Surgery with Dr.Sebastian Ruetten, at St. Anna Hospital, Herne, Germany (2012).
Advanced Training for Endoscopic Spine Surgery under Dr.Antony Yeung, Phoenix, USA (2012)
Asian Academy of Minimally Invasive Spinal Surgery National Workshop, Mumbai, India (2005)
Workshop on K-Fixator, PIMS, Pondicherry
Fellowship in Minimally invasive Spine surgery, Percutaneous Endoscopic Spine Surgery Seoul, Korea (2004)
Experience
Dr. S. Karunakaran is an accomplished Spine surgeon with about 20 years of medical practice. Till date, he has successfully performed more than thousand spine surgeries of various type and complexities including scoliosis, cervical spine pathologies, thoracotomies, laparotomy, disc replacement surgeries etc.Dr. Karunakaran is a pioneer in percutaneous endoscopic lumbar discectomy under local anaesthesia for disc prolapse in Tamilnadu and is also the first to have used INSPACE-interspinous implant for lumbar canal stenosis-Key hole spine surgery local anaesthesia. He is aadept at pain management techniques of spine like Foraminal epidural steroid injection, Facetal blocks, Discography.
Positions held:
Assistant Professor, Department of Orthopaedics: Government General Hospital (Madras Medical College), Chennai
Medical Consultant, Department of Orthopaedics: Government General Hospital, Chennai
Consultant Spine Surgeon: Meenakshi Mission Hospiatal, Madurai
Orthopedic Consultant: MIOT Hospitals, Chennai
Credentials
Special interest:
Minimally invasive Spine surgery
Endoscopic spine surgery
Stitchless spine surgery
Safe spine surgery
Dr. Karunakaran is a strong proponent of "Safety first" concept in Spine surgery and also continuously works at refining his skills and techniques to deliver the best outcome for spinal disorders with least surgical intervention.
Awards:
Mohandas Weller Gold Medal & Fellowship Award at 10th Anniversary meets of the Indo German Orthopedic Foundation, India – Analysis of single level stabilization in grade 1 and grade 2 spondylolisthesis (SPINE)
ASSI (Association of spine surgeons of India) Traveling Spine Fellowship (2005)
Tamil Nadu Orthopaedic Association Traveling Spine Fellowship (2006)
Best Publication in Tamil Nadu Orthopaedic Association Journal (2010) – Morphometric evaluation of the Cervical Spine Pedicle in our Population
Memberships:
Tamil Nadu Orthopedic Association
Orthopedic Association of south Indian states
Association of Spine Surgeons of India
Asian Academy of Minimally Invasive Spinal Surgery
Academic activities:
Publications:
Analysis of Lumbar Spine Stabilization and fusion in Grade I & II Listhesis, IGOF Journal Vol.: 1(2002) 97 – 104.
Tuberculosis of cervicodorsal Spine, IGOF Journal Vol.: 2(2002) 35 – 39.
Bilateral Cervical Jumped Facets –Operative management by dorsal approach, Journal of Tamil Nadu Orthopaedic Association, Vol. 33(2007) 20-28.
Morphometric study of the Cervical Spine Pedicle in our population- Best Publication 2011 in Journal of Tamil Nadu Orthopaedic Association, Vol. 36 (2010)
Retro pharyngeal approach for Upper Cervical Spine lesions published in Journal of Tamil Nadu Orthopaedic Association, Vol.37 (2011)
Consulting Address of Dr. S. Karunakaran Global Hospital Chennai
departments
: Spinal Surgery
positions
: Spinal Surgery