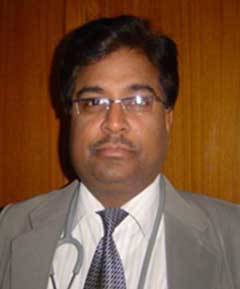 0 Comments
October 22, 2016
by newThemeHospital
Dr. Raj Kamal
M.Ch
Neurology
Contact Number: +91-9325887033
Dr. Raj Kamal, M.Ch
20.4+ Years Of Experience
Additional Director Fortis Escorts Hospital, Amritsar
Neurology
Qualifications
M.Ch- Neuro Surgery
View Profile
Dr. Raj Kamal is experienced Neurosurgeon with over 14 years of experience in top medical research organizations in India, with a successful history of more than 2800 major operations, in the following fields:
• Neuro-oncology; Gliomas, meningiomas, Posterior fossa tumors, Pituitary adenomas, craniopharyngiomas, Skull base tumors.
• Neuro-Vascular Surgery.
• Spinal Surgeries; Anterior Cervical microdiscectomy and cervical plating, Lumbar interlaminar microdiscectomy, spinal tumors- intradural extramedullary, intramedullary
• Neuro-trauma; Head injuries and Spinal injuries
• Trigeminal Neuralgia- microvascular decompression
• Spinal dysraphism, Chiari malformations and Syringomyelia
• Brachial Plexus Surgery.