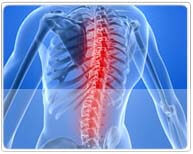 Fortis Hospital, Mumbai, Delhi and Gurgaon Department of Spine and Neuro Surgery which is a super-specialty setup concerned with the prevention, diagnosis, treatment and rehabilitation of disorders affecting the spine, brain and peripheral nerves. The department has professional expertise and is well equipped with the latest high-end technology. The neurosciences team is committed to offer the highest standards of surgical and medical treatment based on best scientific knowledge with human touch. Check out the spine surgery cost in Fortis hospital at Delhi and Neuro Surgery cost in Fortis Mumbai by contacting our International Patient Desk.
We offer various spine and neuro surgeries and procedures and our multidisciplinary team including the orthopaedic spine and neurosurgeons, neuro-interventionists, anaesthetists, pain specialists, psychologist, nurses and rehabilitation experts who work in tandem to deliver world class healthcare. They help to restore and preserve the spine functions by managing disorders of both non-operative and operative treatment modalities. At Fortis Hospital, we perform full range of surgeries using the latest techniques such as the minimally invasive procedures to the major spine surgery procedures such as the complex spinal reconstructions. We have well rounded surgeons having expertise in treating a wide range of spine pathology and performing a comprehensive array of surgical techniques. Get in touch with us to know the cost of spine surgery Fortis Mulund Mumbai and get details of the neurosurgery Fortis hospital consultation fees.
With the highly skilled and experienced surgeons, cutting edge technology and paramedical staff, Fortis Hospital provides a patient centric approach. It has a host of accreditations to its name:
NABH Accreditation
Four times JCI accreditation
Three times BANL accredited Pathology Lab
Best Orthopaedic Hospital at Indian Healthcare Awards in the year 2011
1st NABH accredited Blood Bank in India
Asian Hospital Management Awards 2014 Hat trick-Patient Safety & HRD Category
British Medical Journal (BMJ) Awards India 2014- Medical Team of the Year
Healthcare Leadership Awards 2014- Best Patient Safety
Asian Patient Safety Award (2014)- Innovation in Staff Education
National Energy Conservation Award bestowed by Honourable President of India (2012)
FICCI Healthcare award for Operation Excellence, consecutively in the year 201 and 2013.
To get free no obligation Quote For Spine and Neuro Surgery in India :
Click Here
PHONE NUMBERS REACH US-
India & International : +91 9325887033
Facilities at Fortis Hospital, Gurgaon, Delhi and Mumbai
The facilities at Fortis Hospital, Gurgaon, Delhi and Mumbai include state-of-the art modular operation theatres with latest equipments for minimally invasive and endoscopy spine and neuro surgery. Schedule an affordable Spine and Neuro Surgery cost in Fortis Gurgaon by contacting us.
One Stop Shop for Counseling, Admission and Discharge
Experienced medical professionals.
24 X 7 Trauma / Emergency Services
Ambulance Services with transport ventilator & monitor.
24 X 7 Neuro Diagnostics
Spiral CT Scan
MRI
Electrophysiological tests
Digital X-Rays
State- of -art Neuro Critical Care Unit
Multi Parameter monitors with central monitoring
Advanced Ventilators
Motorized Beds
International Services Desk
Overnight Attendant Lounge
Parking
ATM
Valet Parking
Corporate Desk
Emerald Lounge
Pharmacy
Business Centre
Spine and Neuro Surgery- Medical Procedures at Fortis Hospital, Delhi, Mumbai and Gurgaon
Laminectomy
Diskectomy
Chairi malformation surgery
Spinal fusion
Lumbar puncture (spinal tab)
Deep Brain Stimulation surgery
Brain Aneurysm surgery
Vagus nerve stimulation
Estimated cost of treatment
Once the treatment plan is advised by our specialist, International Patient Services team will arrange quotation or estimated spine surgery cost at Fortis and the hotel stay. The package for the spine and neuro surgery cost in India includes the fees of operating room, ICU, standard single room for the number of specified number of nights including the meals, nursing fee, room service and room rate, medicines for the days of admission at the hospital, surgeons, physiotherapists and anaesthesiologists fees, standard tests and diagnostics before procedure. Book your appointment for Spine surgery in Fortis hospital and Neurosurgery at Fortis Hospital Delhi. Also find out the spine surgery cost in Fortis hospital at Delhi.
Are you really seeking an appointment for spine and neuro surgery, kindly fill up the enquiry form. Fix an Instant Appointment for the Best Spine and Neuro Surgery at Fortis Hospital, Mumbai, Delhi, and Gurgaon.
Click Here To Enuiry Form