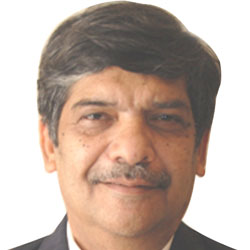 Dr. Arvind Jaiswal


Orthopaedic Surgeon and Head of the Department of Spine Surgery,
Primus Super Speciality Hospital, New Delhi
Introduction
Dr. Arvind Jaiswal is Head of the Department of Spine Surgery at Primus Hospital, Delhi. The renowned orthopaedic surgeon manages all types of spinal disorders and backpain, degenerative spine, spinal trauma and spinal tumors and specialized spinal surgeries for deformity correction. The Best Spine surgeon in India is a pioneer in the Rigid & severe spinal deformity correction, endoscopic disc surgery, minimally invasive spine surgeries (MISS), thoracoscopicanterior decompression with spinal fixation, minimally invasive lumbar spine fixation and minimally invasive scoliosis correction with instrumentation in the country. Contact us to fix your appointment with Dr. Arvind Jaiswal Spine Surgeon at Primus hospital Delhi. Get in touch with the top Spine surgeon at Primus Hospital Delhi by sending your query on the contact details given on the website.
With over 25 years, his work and expertise in correction of the spinal deformities in very young children has been lauded. He has pioneered the use of magnetic growing rods for the early onset scoliosis (EOS) correction in the country. He has a distinguished academic career- he has authored several chapters in books, published articiles in indexed and peer reviewed scientific journals and presented numerous scientific paper in national and the international meetings and invited lectures and orations. Dr. Jaiswal has served as an external examiner at various universities in India and abroad. Get instant response at Dr. Arvind Jaiswal Spine surgeon contact number. To book Appointment with Dr. Arvind Jaiswal, send your query to Dr. Arvind Jaiswal Email Address.
Qualification
M.B.B.S from Rajendra Medical College at Ranchi in 1975
MS (Orthopaedic Surgery) from All India Institute of Medical Sciences (AIIMS) in 1980
After a brilliant post-graduate career, Dr. Arvind Jaiswal specialized in the Spinal Deformity and Minimally Invasive Surgery of Spine. Further, he received his training in Spine Surgery at AIIMS and various centres across the US, UK, Switzerland and Germany. He joined AIIMS, New Delhi as a Faculty in the year 1984 and rose to the Professor, Dept. Of Orthopaedic Surgery in 2001 and served till June 2015. To get a fast track reply from the Best Spine surgeon in Delhi, fill up the form given on our website.
Speciality Interests
Degenerative spine

Endoscopic disc surgery

Spinal deformity correction

Thoracoscopic anterior decompression & spinal fixation

Spinal trauma

Minimally invasive lumbar spine fixation and Interbody fusion

Spinal tumors

Thoracic scoliosis correction and instrumentation

Minimally invasive spine surgeries (MISS)
Dr. Arvind Jaiswal's Association with Primus Hospital, Delhi
The Department of Spine Surgery at Primus Super Specialty Hospital, Delhi is manned by a team of dedicated spine surgeons who provide the state of the art spine services to the patients. The hospital and department have the best of infrastructure, equipments and services for diagnosing, treating and rehabilating the patients. the doctors have extensive experience to treat wide range of spine problems. They use a wide range of minimally invasive diagnostic and therapeutic procedures for identifying the problems so as to provide the best treatment to the patients that will relieve them of their long-term pain and provide relief to the patients. Contact us to get instant appointment with Consultant orthopaedic Surgeon at Primus Hospital Delhi.
Video
Dr. Arvind Jaiswal Director of Spine Surgery at Primus Hospital Delhi talks about the application of the dual growth rods for infantile scoliosis
Professional Memberships
President, World Society for Endoscopic, Navigated and Minimally Invasive Surgery of Spine (WENMISS), 2012-2015

Chairman, Asia Pacific Spine Society (APSS), 2013-2015

President, Minimally Invasive Spine Surgeons of India (MISSI), 2014-2016

President, Association of Spine Surgeons of India (ASSI), 2007-2009

President, Delhi Spine Society, 2004-2009

Board Member of Pacific Asia Society for Minimally Invasive Spine Surgery (PASMISS)

Fellow of the Scoliosis Research Society (SRS)